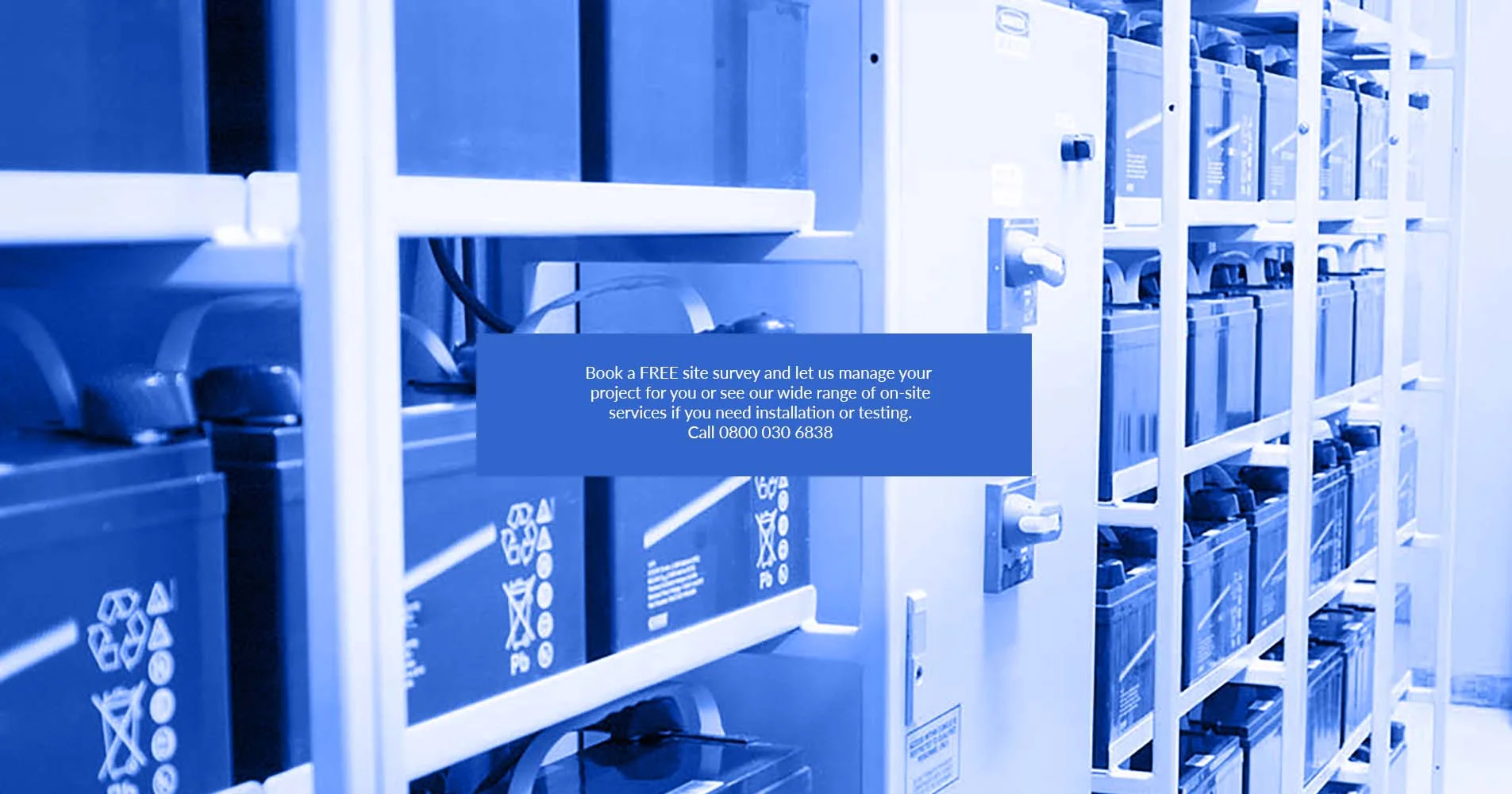 Backup Power Solutions
In addition to the latest energy saving uninterruptible power supplies, Server Room Environments also supplies replacement UPS batteries, standby power generators and energy storage systems using the latest lithium-ion battery technologies.
UPS

Battery Testing and Replacement Batteries

Batteries are the key energy storage component within a UPS system and require regular inspection and inspection. We provide VRLA (valve regulated lead acid) battery testing using hand-held terminals with Cloud accessed data analysis. Our battery inspection reports can help to build-up the performance profile for a UPS battery set over time and provide a true indicator for their replacement. We also supply replacement UPS batteries and battery kits from many leading battery manufacturers and provide eco-friendly battery recycling and disposal.
Standby Power Generators
As part of our power generation package the Synchronised Power team can advise on and supply local standby generators and their integration with an uninterruptible power supply installation. Our power engineers provide generator health checks and maintenance contracts.
Energy Storage Systems
Energy storage is one of the fastest growing sectors within the power protection and electricity distribution sectors. Grid scale energy storage systems can be used as part of a demand side response (DSR) program to support the National Grid and District Network Operators (DNOs) to fulfil their Ofgem supply contracts. Grid scale systems can include containerised lithium-ion battery sets, switchgear and distribution.
Smaller energy storage systems including virtual power plants (VPPs) are an option for server rooms and datacentre facilities that want to achieve a more sustainable operation and become more grid independent. The use of lithium-ion batteries with their advantage over lead acid batteries for rapid and more frequent charge/discharge cycles, allows an energy storage system to be rapidly recharged and using off-peak electricity prices. During peak-time charging the stored energy can be used to power the connected loads.
Local Energy storage systems can also help a server room or datacentre operator to store energy generated from nearby renewable power sources including solar PV and wind farms. The energy can be used to off-set electricity usage from the grid and also allow the facility to support grid and frequency balancing initiatives.
Energy storage systems tend to be bespoke designs specific to a site project. Please contact our projects team if you would like to discuss an energy storage application.
Energy Saving
UPS

Systems

The Server Room Environments team has over 35 years of experience covering the design, installation and maintenance of UPS systems. We have supplied centralised and decentralised power protection scenarios, parallel capacity and redundant systems, transformer-based and transformer-less modular UPS systems.

Typical projects include server rooms, datacentres and industrial sites. Our power engineers deliver 'turn-key' packages including electrical installation and distribution with PDUs and transfer switches as required.

For existing UPS installations our projects team can provide replacement UPS proposals identifying how much energy can be saved in terms of electricity savings and cooling demands. We also provide UPS relocations, removals and eco-friendly recycling.
UPS

Maintenance Contracts

The Server Room Environments team uses UPS manufacturer certified engineers. We provide emergency callout, preventative maintenance and health checks and maintenance contracts across the UK and Eire for many leading UPS brands. Typical response times under maintenance include 4 clock hours, 8 and 12 working hours.

Our UPS certified power engineers have full access to spares, firmware upgrades, service software and manufacturer technical support teams to ensure we can maintain, fault-find and fix many types of UPS system. We also provide replacement UPS batteries.
Backup Power Projects
For all aspects of your back-up power project please contact our power engineering team. We design, build and test battery installations for uninterruptible power supplies and provide a maintenance, replacement and recycling.