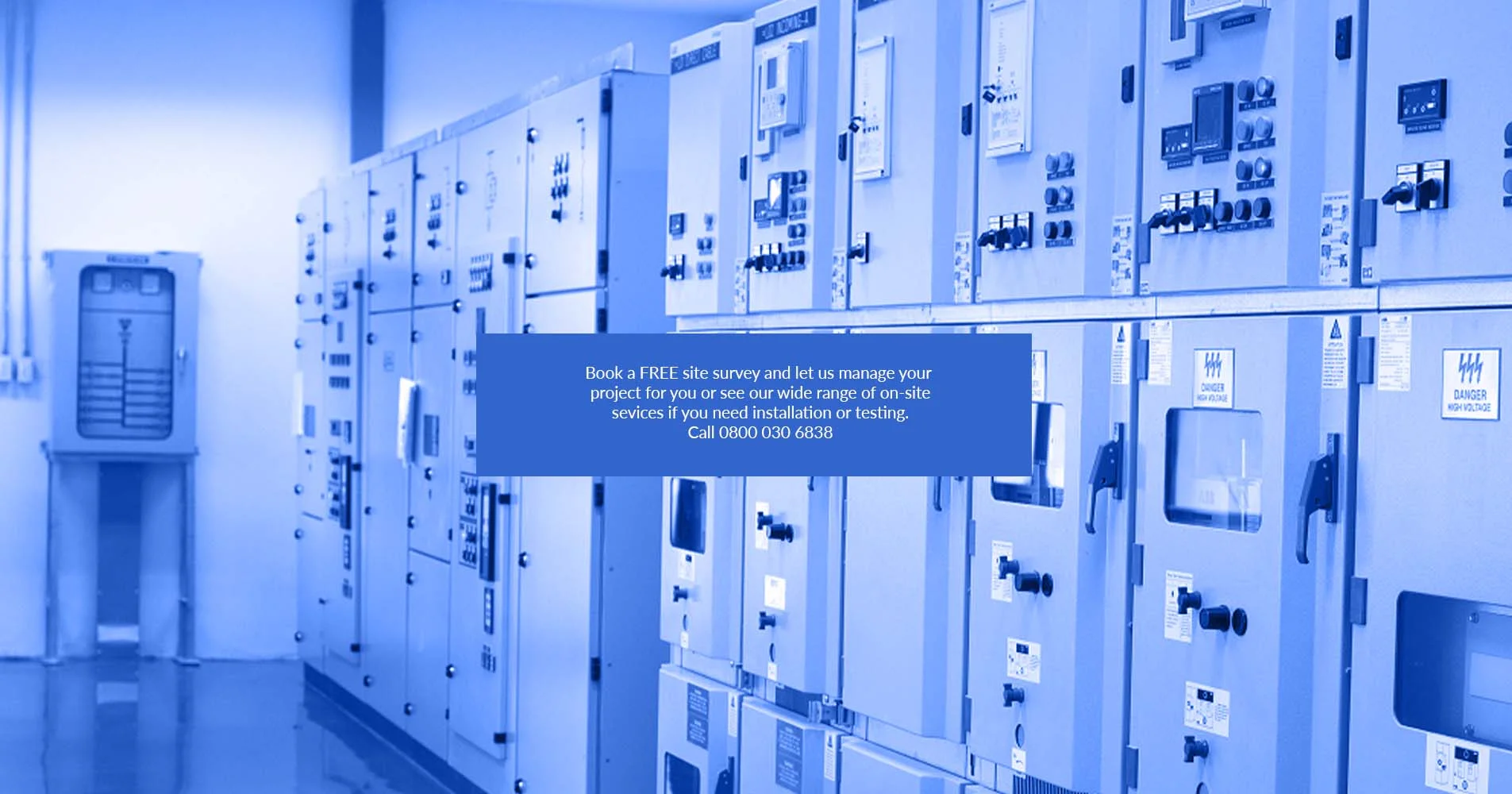 Datacentre LV Switchboards and Server Room Panel Boards
LV Switchboards and panel boards form the electrical power distribution and critical power path for a server room and datacentre facility. At Server Room Environments we provide a complete design, installation and maintenance service for low voltage switchgear including sub-distribution panels, custom and bespoke designs.
UK Manufactured Low Voltage Switchboards
Our low voltage switchboards are manufactured in the UK under ISO9001 and can be customised to meet site specifications. We can incorporate power factor correction and an energy and power metering options onto the panel design. Due to our access to customised metalwork fabrication and paint shop facilities, we can design and install switchboard panels to bespoke shapes to suit building layouts.
Our LV switchboard manufacturing team uses a standard range of in-house manufactured frames and panel covers to provide a fast turnaround to meet market demands. We also offer bespoke design switchboards up to 6300A and designed in with BSEN60439-1-1999 with the Busbar systems having full ASTA certification. We supply panels powder coat painted to customer colour and paint type specifications to accommodate requirements within the datacentre industry and other critical power type applications having separate A and B supplies.
Packaged Substations
In addition to our switchboards we supply UK manufactured packaged substations in their own metalwork enclosures suitable. A packaged substation can be manufactured and deployed more rapidly than a traditionally housed substation and is ideal for those buildings requiring a bespoke building grid connection including renewable power applications (on-shore wind turbine farms).
Building Control Panels
Our power engineers are highly trained and can support a wide range of control panels from simple operator panels to more complex Building Management Systems (BMS) controlled systems with multiple controllers. We can incorporate into the design of the control panels many factors including environmental, electrical, size, volume, resilience and efficiency specifications
Factory Witness and Site Acceptance Testing
We provide both Factory Witness Testing (FAT) and Site Acceptance Testing (SAT) as required. Factory inspections are welcome during the design and build process. Our UK manufactured panels have a 25-year design and service life as standard. We supply the boards with a complete installation service covering complex logistics (including crane hire), assembly on site, calibration and maintenance.
Typical IT installations for our low voltage switchboards and panel boards include datacentres and server rooms. They can also be found on industrial manufacturing sites, retail outlets, distribution depots, supermarkets, hotels, large office buildings, process control, broadcasting studios, financial dealing rooms, utilities (electricity generators, gas suppliers and water treatment works) and off-shore facilities.
Custom Power Distribution Units (PDUs)
For power control at the low voltage switchboard level we supply custom Power Distribution Units (PDUs). These can assist with the management and synchronisation of standby power sources (generators), energy storage systems and uninterruptible power supplies. Additional options that can be built into a custom panel or PDU include:
Static Transfer Switches (

STS

) for separate A and B supplies for additional power resilience
Isolation transformers for harmonic protection from upstream or downstream loads
Hot-swappable MCBs and

MCCB

Energy metering and power monitoring
Cooling fans with redundancy
Maintenance bypass switches to assist routine maintenance
Outlet terminations and industrial sockets
Plinths for raised floors e.g. within water utility plant rooms
IP-ratings to suit any environmental conditions
Connections for Building Management System communications

GSM

model links for remote monitoring
Please contact the projects team at Server Room Environments for more information on our low voltage switchboards, packaged substations, control panel boards and custom power distribution units. We provide a free site survey and project review service.