Smart PDUs
Smart Power distribution units feature one or two features that raise their before over a standard or basic PDU. Smart devices such as the PowerPDU are small PDUs with four IEC320-C13 power outlets that can be individually controlled and monitored over an IP/Ethernet connection via a LAN browser, software application or Cloud-based portal.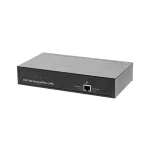 Netio PowerPDU-4PS PDU with Metered Outlets
from £155.00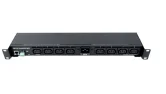 Smart PowerPDU-8QS PDU with Metered Outlets
from £295.00
Netio Smart PowerPDUs
These are small smart power devices 1U high that can be installed into server rack cabinets either horizontally or vertically. Each unit has four IEC320-C13 outlets.
The individual outlets on the PowerPDU-4PS can be remotely switched ON/OFF. Each power output supports ZCS (Zero Current Switching) to protect connected devices.
The PowerPDU-4C provides individual controlled (ON/OFF/RESET/TOGGLE) and monitored (metered) outlets. Electrical measurements include Volts (V), Amps (A), Energy (kWh), True Power (Watts), Frequency (Hz) and the true Power Factor (pf) for each power outlet.
Output power can be controlled using a local web interface or a M2M API protocol including REST API, SNMP, MQTT, MODBUS/TCP and others. Custom Lua scripts can be run directly on the PowerPDU-4C. The PowerPDU-4C also has a built-in RS-232 port (green 3-pin terminal block) that can be controlled with a Lua script or used as a TCP tunnel (remote serial port).
PowerPDUs can be connected to the NETIO Cloud internet portal. NETIO Cloud is provided free of charge and uses SSL security and a European-based datacentre.
Typical Applications
PowerPDUs are intended for use in server racks to power servers, networking devices and peripherals, telecomms, mobile and communications devices. They can help to increase the management of both on-site and remote site installations and provide the facility for local power and energy measurement as well as reboots and power cycling.
PowerPDU Features
Range

LAN

RJ45 Ports
WiFi

IQRF

Outlets

ZCS

/

ZVS

Metering/Metrics
Web-based Management
RS232 Port
Netio Cloud
Scheduler
WatchDog
M2M APIs
PowerPDU-4C PDUs
2
–
–
4 x C13 IEC320

ZCS

Yes/22
Yes
Yes
Yes
Yes
Yes
13
PowerPDU-4PS PDUs
1
–
–
4 x C13 IEC320

ZVS

–
Yes
–
Yes
–
–

XML

,

JSON

,

URL

API

, Modbus/

TCP

, Telnet,

MQTT

-flex, SNMPv1
Note: ZCS stands for Zero Current Switching. ZVS stands for Zero Voltage Switching.