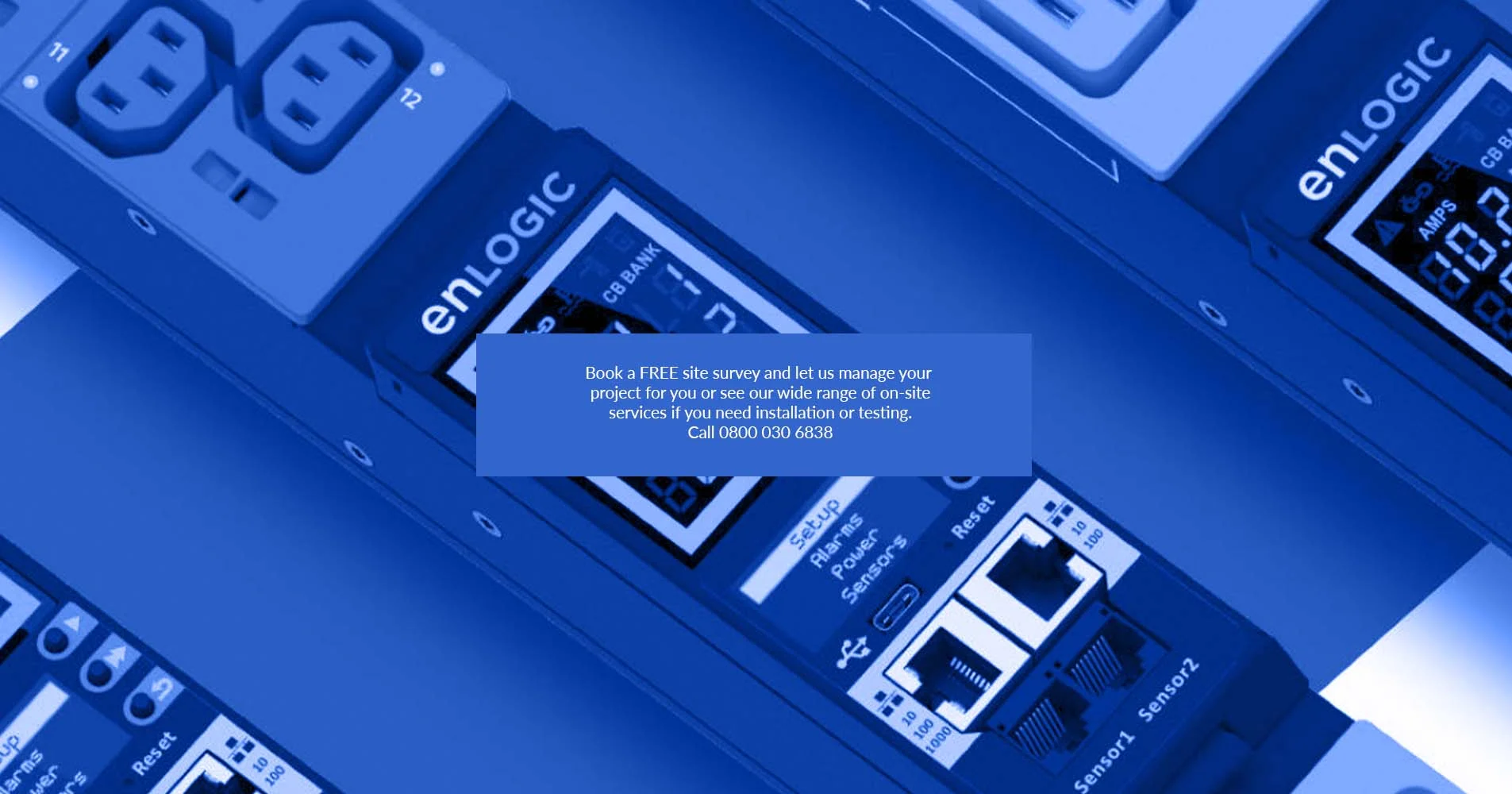 Metered PDUs
These PDUs provide real-time measurements of the loads connected to their outlet sockets via remote connection to an IP network and PDU monitoring software. The active metering information available from these power distribution units can be used to optimise power loading, energy usage and circuit protection. Metered Outlet PDUs provide power monitoring information at both the individual outlet level and the total PDU level. Metered PDUs only provide information at the PDU level.
PDUs with Metering
Metered power distribution units (PDUs) can integrate into PDU remote monitoring software and data centre infrastructure management (DCIM) packages to provide power and energy usage information and critical alerts.The PDUs may have a load indicator LED to indicate a general total overload of the PDU based on factory set or user-defined thresholds. The intelligence built into these monitoring devices may include a network management controller unit and the ability to flash upgrade software in real time. The metering information provided can help to avoid overloads by the connected devices and avoid a possible circuit breaker trip from the plugging in of additional IT loads when the current power demand on the power strip is already close to its maximum. The device may include an LCD display for local metering information. The PDU will be designed for either horizontal installation or vertical installation by fixing to the vertical pillars of a server rack or data cabinet.
Power distribution units with metering provide real-time monitoring of the connected loads and can generate alarms to warn about potential overloads. The active metering can be used to optimise power distribution and circuit protection. The alarm threshold is user-settable and alarms are in real-time with remote alert options.
Rack PDUs like these allow IT, server room and datacentre managers to balance loads and right-size their IT power protection and distribution plans. The digital meter shows the aggregate current draw per rack PDU. This feature can help installers to ensure branch circuits are not overloaded as the metering is in real-time as will change each time a new server or other network device is plugged into an outlet.
PDUs with meters can be monitored and configured using PDU management software over a http/https web interface connection or SNMP. Additional sensors can be fitted to provide temperature and humidity monitoring as well as lockable IEC outlets/sockets. Socket outlets can also be coloured coded for load identification.
The PDUs allow controlled power distribution from a single branch circuit and are available for a range of power voltage with 230Vac being the standard. Options include 120Vac and 208Vac. The PDU firmware can be quickly and easily upgraded via a network download; a feature that prevents downtime and removes the need to replace existing PDUs when new product features and enhancements become available. Each of the PDUs also features a network management interface to provide a standard web, SNMP or Telnet-based monitoring, and allows use to access information, configure and manage the units remotely.
Custom PDUs
If you need a custom design PDU we can provide this through one of our manufacturing partners. A custom or bespoke PDU is one built to your specification. For meters with PDUs the options can include socket outlet arrangements, plug type and size, power cord length, and outlet socket type, size, orientation and colours. Custom PDUs are built-to-order and therefore are non-stock items with a longer lead time of up to 2-4 weeks depending upon the options and quantity required.
For more information on our Metered PDUs please contact our projects team.