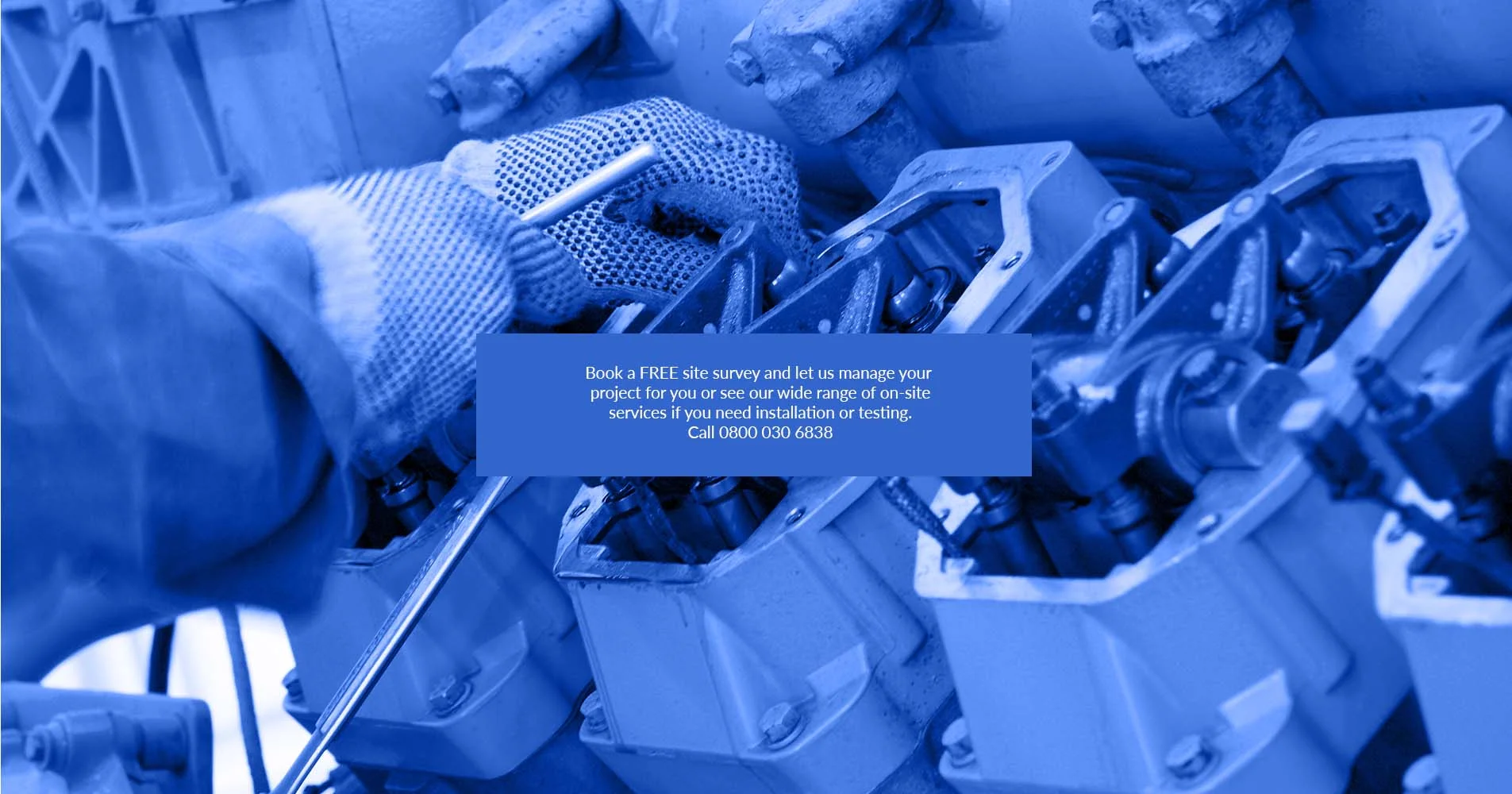 Standby Power Generators
In most of the generator installations supported by our projects team the generating set is being used in a standby power mode. In this mode the generator starts when the mains power supply fails and supports the critical loads via an uninterruptible power supply. The generator may also provide power to other essential and non-essential loads within the building including lighting, heating and cooling, access and security.
Generator Service and Maintenance Contracts
Regular generator testing, maintenance and inspection is vital to ensure the unit can perform when during a power outage. Most sites will run a generator test one a month and have six monthly maintenance inspections. This regime helps to prevent issues such as a build-up of carbon deposits and ensures the battery and starter motor are healthy.
Our projects team provides a range of generator services using generator manufacturer certified engineers. Our services cover all elements within a generator installation: the engine, alternator, control system, fuel system, exhaust, cooling and lubrication systems, starter-battery, battery charger, auto-transfer panel and remote monitoring system. Our complete generator services include:
Electrical installation by our projects team
Mechanical installation by manufacturer certified installation engineers
Maintenance contracts with guaranteed emergency response times including 4 clock hours on site (24/7), same working day or next working day
Service visits with visual inspections, cleaning, electrical, hydraulic and lubricant checks, fuel level checks. refuelling, oil sampling, air, water filter replacement and starter battery testing
24/7 technical support
Remote site monitoring
Load Bank testing
Generator hire and rental
Generator condition monitoring
Please contact us for pricing on any of our generator services. We can arrange site survey by one of our power engineers with relatively short notice and cover the UK and Eire.
Generator Hire
We provide generator rental packages to provide temporary power for unplanned utility or site works or the failure of a generator set on site and as a rapid response service. Hiring a generator via our projects team provides several benefits:
Free Site Survey prior to the hire period with a comprehensive quotation
Generating sets available up to 1MVA for hire
Refuelling services to ensure the set is fully fuelled
Project managed logistics, commissioning and decommissioning
24-7 technical hotline and remote monitoring of the generating set
Regular inspections and testing to guarantee the performance of your generator
The site survey we provide helps us to identify any necessary electrical and sites works and the lengths of temporary power cables required between the generating set and the loads. All the electrical works can be provide by our projects team in addition to the required power cables. The site survey also identifies the location for the generating set which could be roof-top mounted or placed inside a temporary building or onto a plinth requiring a protective canopy. Generator rental periods include:
Short-term of 1-2 weeks
Medium-term of 1-2 months
Long-term contracts of 3 months plus
At the end of the rental period, power engineers will decommission the generating set and remove them from your site for return to a regional depot. Delivery for the initial generator rental will typically be within 5 working days or faster if an emergency response is required. Our power engineers provide 24/7 support and can also arrange for remote monitoring via the local network and SNMP with alert messages sent out via SMS.
Generator Condition Monitoring
Our projects team can also provide oil and fuel analysis. Using a sampling kit we send the results for analysis with the results provided in a formal report showing contaminant levels and recommendations. The analysis looks for the presence of several metals, fuel and water including: Copper, Iron, Chromium, Aluminium, Lead, Tin, Carbon, Sodium, Fuel and Water. Condition monitoring can identify coolant leaks, excessive cylinder lining wear, piston ring wear, bearing wear, fuel ingress and air filtration problems.
For more information on our generator installation, maintenance or hire services please contact our projects team.