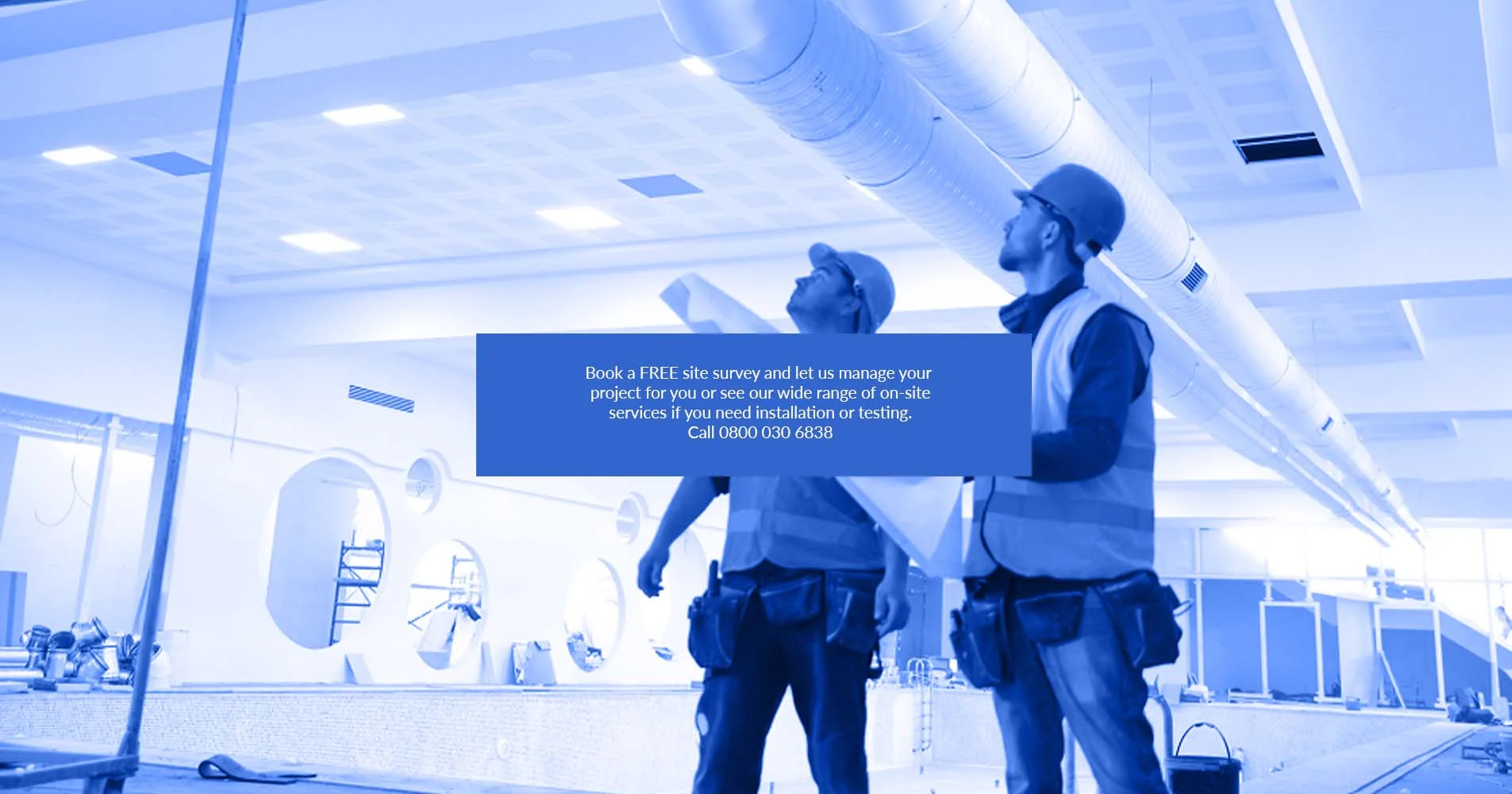 Free Air Conditioning Site Survey
For cooling system installation projects. we recommend an air conditioning site survey by one of our HVAC specialists. We assign a project manager and typically provide the survey free of charge (within the UK and Eire) depending upon the availability if our engineers. Most air conditioning site surveys can be completed during normal working hours. Our project managers are also available outside normal working hours and at weekends, for organisations that run 24/7 or have special requirements for access or security. 
Design and Installation
Once we have completed the survey our project manager will generate a complete proposal for your consideration. The proposal can include details on:
the project scope and deliverables
system design and product specifications
electrical works; cabling and breakers
mechanical works; pipe and duct work
pricing for

CAPEX

and leasing as required
energy efficiency and

TCO

calculations
airflow modelling as required
hot-aisle/cold-aisle containment if required
optional accessories
milestones and delivery timescales
product warranties
service and maintenance contract options
removal of existing systems as required
eco-friendly disposal of systems as require
The proposal will include details on any works required to meet the latest regulations and legislation.
During the site survey our project manager will request permission to take photographs and if granted these will be used to explain aspects of the proposal. Marked up drawings and plans can also be included in the proposal for your architects.
Server Room Environments can work with your site contractors or manage the entire project including electrical contracting services.
Health & Safety and the Environment
As part of our commitment to health & safety and environmental planning, we will also provide a generic or site-specific risk assessment and method statement (RAMS) document detailing the scope of works, analysing risks and how to mitigate and reduce them. From an environmental planning point of view we ensure that our all procedures and processes support our environmental management policy and we strive to operate as efficiently and least wasteful as possible. Our project manager can attend site to discuss these matters further including any on-site inductions and training required.
Logistics and Consignment Consolidation
Depending on the size of the project we may consolidate all the components for a project and deliver to site using our own vehicles or arrange for a third party logistics company with specialist equipment to do so. Where necessary our project scope will have defined the need for any special logistics equipment including floor boards, stair climbers and a crane. We will only arrange for delivery to site as agreed and on a set day. Pre-arranged timed deliveries are also possible and we can also arrange local council parking permits and road closures as required. Most often our project manager will also be on site to ensure the logistics is completed as planned with any packaging removed for eco-friendly disposal.
Air Conditioner Leasing Facilities
The proposal is fully costed and competitively priced. As a major supplier into the server room and datacentre market place, we also have access to competitive finance facilities and can provide lease-purchase and 'as-a-service' proposals.
Additional System Surveys
Survey Room Environments provides site surveys for electrical and network cabling works, fire suppression systems, uninterruptible power supplies, energy storage and standby power generators.