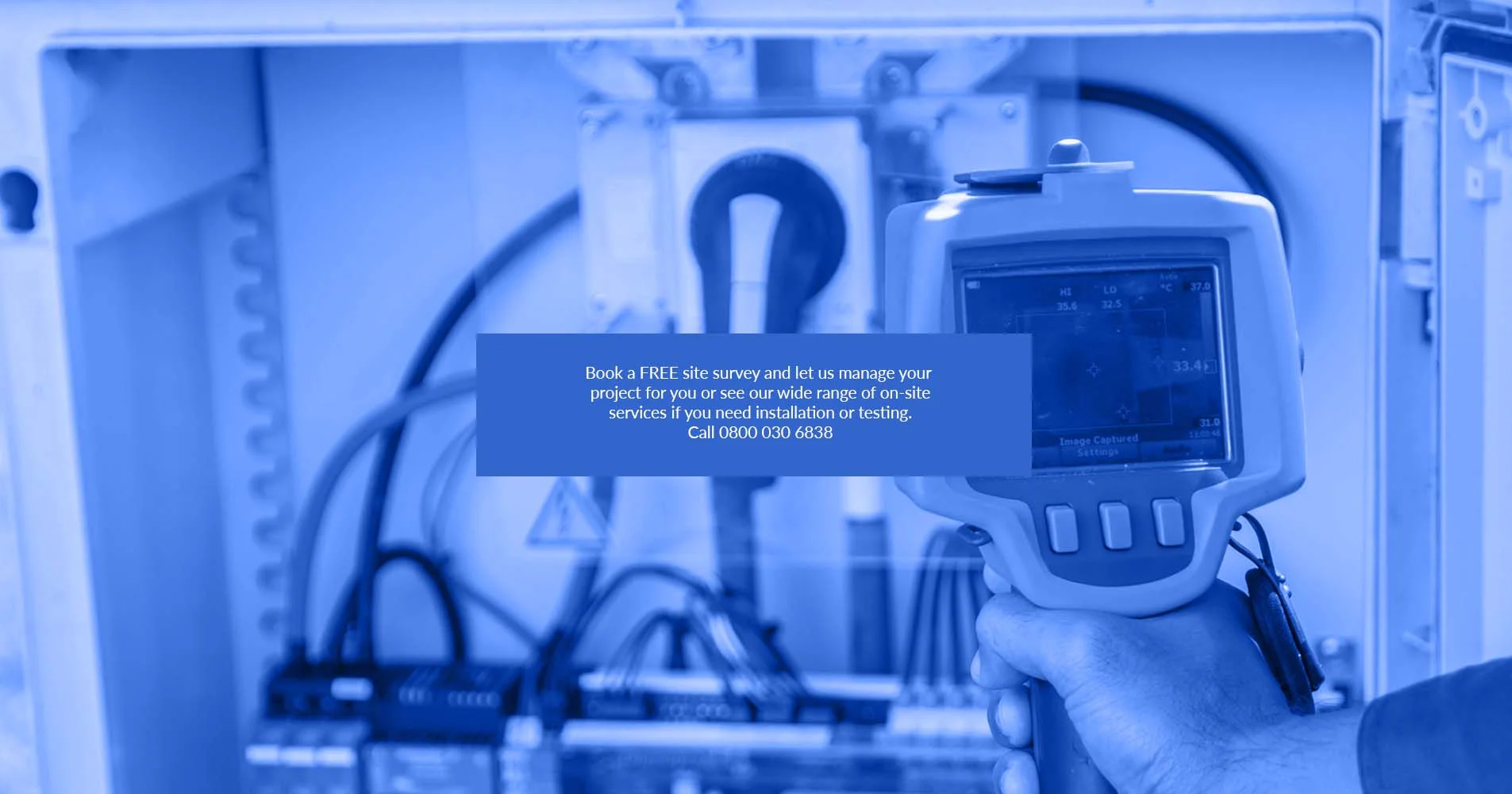 Data Centre Thermal Camera Surveys
Thermal imaging surveys can quickly identify areas of concern that are often invisible within a server room or data centre environment. Surveys like this can be carried out on request or as part of a planned preventative maintenance visit and can help to locate areas of concern within electrical and mechanical systems, LV switchgear and cabling, power protection devices and battery packs, server racks, cooling systems and compressor units.
Thermal Imaging Scope of Works
For a data centre or server room thermal imaging survey our engineers use FLIR thermal imaging cameras and follow a set Risk Assessment and Method Statement (RAMS) document to produce a heat map of the environment. The specific steps within a thermal imaging survey include:
Critical Infrastructure Schedule: a catalogue of the items, units and systems within the critical infrastructure of the building or room for the survey. Typically this includes documenting the critical power paths and cooling containment or air flow components within the facility to ensure the entire system is included from the building incomer and LV switchboards to sub-distribution and power distribution units.
Reliability and Maintenance Review: sometimes it is possible to quickly identify areas of concern following repeated failures, erratic operation or higher than normal component replacement. Typical examples could include server and IT hardware failures within server racks, circuit breaker tripping or

UPS

system battery failures.
Review Temperature Monitoring Data: where a facility has temperature monitoring in place, the data recorded can be analysed to identify 'hot-spot' alarms and areas with temperatures higher than data sheet specifications.
Capture Thermal Images: each item on the identified critical infrastructure schedule is photographed along with areas of concern from the temperature monitoring data analysis.
Areas of Concern Register: from analysing the thermal images a register is generated listing the asset, problem description, level of severity (low: yellow, medium: amber or severe: red) and corrective and/or preventative.
Final Report: provide a report including the infrastructure schedule, results, thermal images, areas of concern register and recommended remedial works.
The duration of the survey is dependent upon the size of the facility. A server room thermal imaging survey can take from 2 hours to half a day or more. Data centres run from at least one day on site to several days.
The Advantages of Thermal Imaging Surveys
A data centre thermal site survey is a cost-effective way to quickly identify and diagnose thermal issues. Intermittent problems can be more easily traced and corrected for. Power and cooling related issues including unbalanced loads and harmonics or air flow and poor recirculation can be identified, and corrective actions put in place.
A thermal imaging survey can also avoid the need for more costly CFD (Computational Fluid Dynamics) modelling. The survey can also help to improve electrical energy efficiency within the facility by helping to remove the common power and cooling issues:
Unbalanced electrical circuits
LV switchgear overheating and harmonics
Loose cable and corroded connections
Circuit breaker loading and tripping faults
Cold and hot air flow path crossovers

UPS

battery overtemperatures
Server rack air flow issues
Server cabinet hot-spots
Air flow containment leaks
For more information on our data centre thermal site surveys or to discuss one of our data centre consultancy or other on-site server room services, please contact our projects team.