Poseidon2 4002 Environment Monitors

SKU: POSEIDON2-4002
Prices from £645.00 ex. VAT or £774.00 inc. VAT

Prices from £774.00

Prices from £645.00
Total price inc. delivery from £645.00 ex. VAT or £774.00 inc. VAT

Total price inc. delivery from £774.00

Total price inc. delivery from £645.00
Total price inc. delivery from £658.00 ex. VAT or £789.60 inc. VAT

Total price inc. delivery from £789.60

Total price inc. delivery from £658.00
Total price inc. delivery from £675.10 ex. VAT or £810.12 inc. VAT

Total price inc. delivery from £810.12

Total price inc. delivery from £675.10
Total price inc. delivery from £780.01 ex. VAT or £936.01 inc. VAT

Total price inc. delivery from £936.01

Total price inc. delivery from £780.01
Poseidon2 4002 Environment Monitors can support up to forty-two sensors (16 via 1-Wire UNI/1-Wire + 26 via RS485) and up to 12 detectors connected to digital inputs. Poseidon2 4002 can also control 4 digital NO/NC relay outputs, as well as up to 8 virtual digital outputs (VDO) at remote Poseidon2 or Damocles2 units using an M2M protocol.
Poseidon2 devices are designed to monitor and control sensors and digital Input/Output (I/O) signals over a network using secure M2M protocols (HTTPs, IPv6, SNMPv3). The devices can be integrated into a wide range of monitoring and control systems and support over fifty SNMP and SCADA applications. The MQTT protocol is built-in to allow integration to IoT applications.
Poseidon2 4002 can be monitored remotely over the internet using the HWg Cloud or SensDesk portals in combination and the SensDesk Mobile app (iOS and Android). The Poseidon2 also works with HWg-PDMS and HWg-Trigger software packages and has a built-in web server for ease of configuration.
Poseidon2 TSet Kit
The Poseidon2 4002 is supplied with a power adapter, Temperature 1-Wire Rack19 sensor, 3m Temperature 1-Wire IP67 sensor, door contact, Windows software HWg-PDMS 8 license, 1U mounting brackets and screwdriver.
Key Features
Sixteen 1-Wire

UNI

/1-Wire and 26 RS485 Inputs
Twelve Digital Input with 32-bit S0 pulse counters (retain values even if the power fails)
Four Relay Outputs NO/NC and eight Virtual Digital Outputs
Data Logger for more than 250,000 records
Five

SNMP

Traps, five email and five

SMS

and Phone Call Rings via external

GSM

gateway or modem

MQTT

compatibility to allow connection to IoT Hubs, Microsoft Azure,

AWS

IoT, Bluemix Internet of Things and other cloud services
Connected via

LAN

and configured via built-in web server
A DI state change sends an alert by email, SMS+Ring,

SNMP

Trap or activates a remote relay on another Damocles2 or Poseidon2 device
S0 pulses can be converted to cost per time period and exported to MS Excel using HWg-

PDMS

software
Compatible with a range of third-party software (including

SCADA

). Examples include Borland C++, MS Visual, VB, C#,

PHP

,

JAVA

and more
Applications
Computer and Server room environment monitoring
Remote environment monitoring in a cabinet or in a datacentre
Cooling and Air conditioning system monitoring

UPS

systems and standby backup generator monitoring
Industrial applications
Cooler and freezer monitoring with alarm indication
Temperature and other measurements in a Cloud application
Surveillance systems
Smart buildings
1-Wire Temperature Sensors
1-Wire Humidity Sensors
1-Wire Temperature and Humidity Sensors
1-Wire
UNI

Sensors
Water Leakage Detectors
Detectors
Air Quality Sensors
Converters
Physical Installation
Metal Case: IP40
Installation:

DIN

, wall, flat surface, server rack shelf, wall
Design: Industrial, IT
Operation Schematic
Poseidon2 Internet of Things (IoT) Solutions
The Poseidon2 is an IoT device monitoring solution and provides:
Supports data transfer via Ethernet
Provides quick view real-time data on the HWg Cloud and SensDesk portals
Sends data via email, custom software and Cloud third-party applications
Uses standard protocols including HTTPs, IPv6, SNMPv3 and

MQTT
Poseidon2 devices have an Ethernet interface and can transfer current values and buffer stored data. The data can be transmitted to the HWG Could and SensDesk portals using HWg-Push software or passed via HWg-PDMS software to third-party software using MQTT IO protocols and run on Microsoft Azure or Amazon AWS servers. Data can also be emailed to PDMS and downloaded from a POP3 or secured POP3S mailbox.
See the features and protocols comparison table to compare this device to similar environmental monitoring devices.
Other Poseidon2 Environment Monitors Models
Poseidon2 3266 Environment Monitors
Best Seller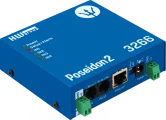 from £349.00
Poseidon2 3268 Environment Monitors
Best Seller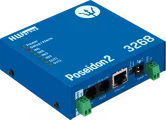 from £380.00
Poseidon2 3468 Environment Monitors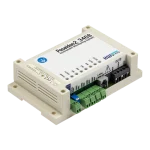 from £514.00