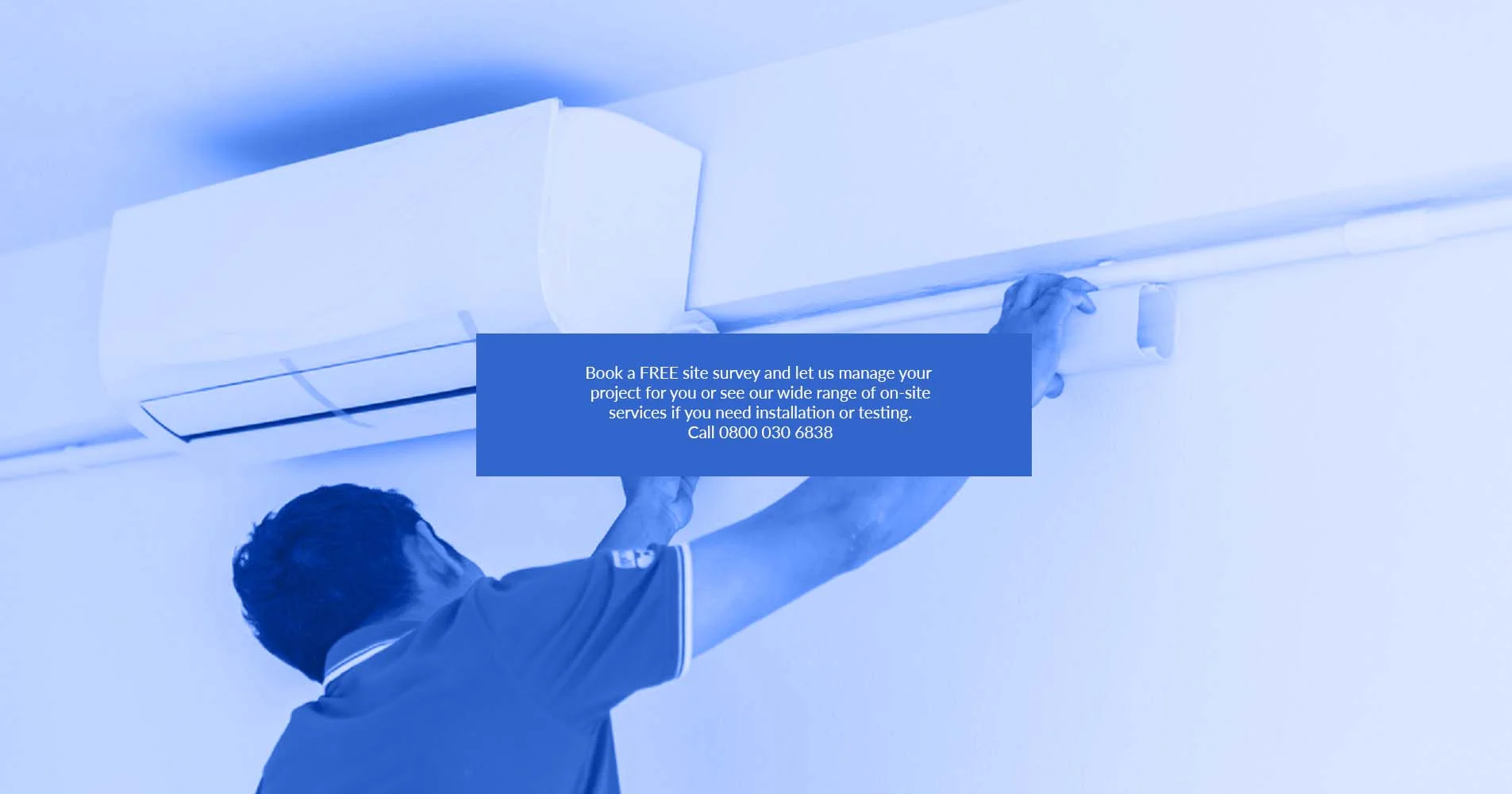 Wall Mounted Air Conditioners
Wall mounted air conditioners are one of the most commonly installed compact aircon units and are ideal for IT closets, computer rooms, server rooms and general office environments. The AC units provide programmable, energy efficient cooling with heat removed from the cooling system by an externally mounted condensor or heat exchanger.
Wall Mounted Aircon Units
Wall mounted air conditioners are the most commonly installed aircon units in IT closets, computer and server rooms. They are designed for high intensity environments including general office spaces and are programmable either from a front panel control or remote-control handset. Some units also offer WiFi connectivity for mobile phone App or IT network configuration, monitoring and alarm reporting.
The aircon units are typically split into two components. The wall mounted air conditioner which is visible inside the room and an external heat exchanger which is connected to the internal unit via exhaust pipework. This type of unit is referred to as a 'split AC system' or 'split AC unit'.
Wall mounted AC units are designed to cool a specific sized space which is usually referred to in m² or square meters or sqm or BTU (British Thermal Units) and must be sized according to the characteristics of the room and its usage.
| Room Width x Depth | Room Size | Air Conditioner Size |
| --- | --- | --- |
| 2×2m | 4m² | up to 2kW |
| 3×3m | 9m² | 2-3kW |
| 4×4m | 16m² | 2.5-3.5kW |
| 5×5m | 25m² | 3.5-5kW |
| 6×6m | 36m² | 4-6.5kW |
| 7×7m | 49m² | 5-7kW |
| 8×8m | 64m² | 6.5-8kW |
| 9×9m | 81m² | 7-10kW |
| 10×10m | 100m² | 11-15kW |
Please note this is a guide only and depends upon the number of racks and their IT equipment loading.
Whilst most IT servers and network components are designed for high ambient environments up to 30˚C or more, the recommended temperature range for a server room is 20-25˚C. This not only provides a suitable working environment for engineers and technicians but also provides a suitable working environment for any local uninterruptible power supplies installed with valve regulated lead acid (VRLA) batteries.
Wall mounted air conditioners can also be referred to as heat pumps if they provide a heating as well as a cooling function.
Air Conditioner Manufacturer Certified Engineers
Server Room Environments provides a complete range of wall mounted air conditioning units, power inverters and heat pumps. We work with a number of leading cooling solution manufacturers and suppliers to ensure we supply the right air conditioning solution for your application. All systems are installed by manufacturer certified engineers in order to activate the warranty period which can be up to 7 years and must be supported with a suitable air conditioner preventative maintenance contract.
Please let us know if you need a free site survey. Our cooling team also provide a complete design, installation and maintenance contract service including preventative maintenance visits, 24/7 technical support and emergency call out facilities.