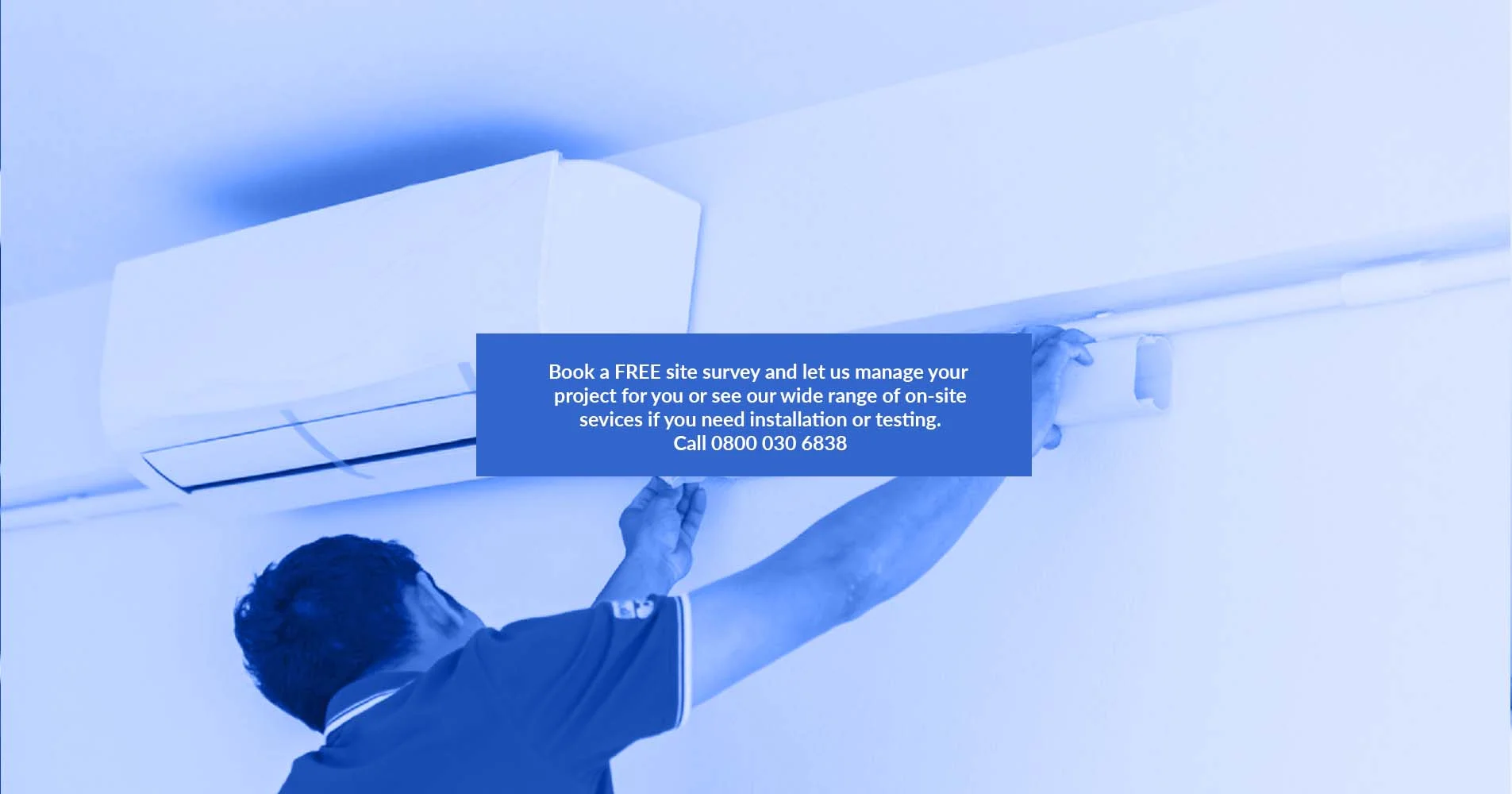 Ceiling Suspended Air Conditioners
Ceiling mounted or ceiling suspended cassette-type air conditioners are designed to provide a higher-kW rated cooling solution than wall mounted aircon units. Ceiling suspended systems provide programmable and energy efficient cooling and are connected to an externally mounted condensor and heat exchanger using pipework. The aircon units provide variable cooling from four vents and are generally installed within the centre or at multiple ceiling points within the room.
Under Ceiling Aircon Units for Server Rooms
Under ceiling or ceiling suspended air conditioners provide a higher-powered cooling function than wall mounted units. This makes ceiling suspended aircon units ideal for larger computer and server rooms with two or more server racks of low density servers.
Ceiling mounted air conditioners are also referred to as 'split units' or 'split ac units' as they consist of an in-room air conditioner unit and an externally mounted condenser and heat exchanger. The two are connected via exhaust pipework.
The air conditioners may be compact or ceiling cassette types. The ceiling cassette air conditioner provides a higher kW cooling range and uses a ceiling void (if present) within which the majority of the unit is hidden. Ceiling cassette type air conditioners cover larger room areas and volumes than wall mounted aircon units and can provide greater control of the air flow direction i.e. they have four vents as opposed to the one of a wall mounted AC unit.
Whilst IT and other electronic systems are typically designed to work up to 30˚C or more, the ideal temperature range for a sever room is 20-25˚C. This provides a comfortable ambient range for technicians and engineers to work within and also to protect batteries (lead acid type) installed in any local UPS systems.
When sizing a ceiling suspended air conditioner several factors must be taken into account including the room size. This table is provided for reference only and our HVAC engineers and project managers can provide a site survey and sizing recommendation if required.
| Room Width x Depth | Room Size | Air Conditioner Size |
| --- | --- | --- |
| 2×2m | 4m² | up to 2kW |
| 3×3m | 9m² | 2-3kW |
| 4×4m | 16m² | 2.5-3.5kW |
| 5×5m | 25m² | 3.5-5kW |
| 6×6m | 36m² | 4-6.5kW |
| 7×7m | 49m² | 5-7kW |
| 8×8m | 64m² | 6.5-8kW |
| 9×9m | 81m² | 7-10kW |
| 10×10m | 100m² | 11-15kW |
Please note this is a guide only and depends upon the number of racks and their IT equipment loading.
Installation by Certified Air Conditioning Engineers
Server Room Environments supplies ceiling mounted air conditioning units (including cassette type) that can be used in general office environments as well as server rooms and IT networking computer rooms. We work with a number of leading cooling solution manufacturers and suppliers to ensure we can provide the best cooling device for your application.
Our cooling experts are available at short notice to provide a free site survey as well as general advice and assistance. Server Room Environments also provides a complete cooling service including design, installation, and air conditioning maintenance contracts. The air conditioner must be installed by a certified engineer in order to activate its manufacturer warranty which can be up to 7 years with suitable maintenance cover.