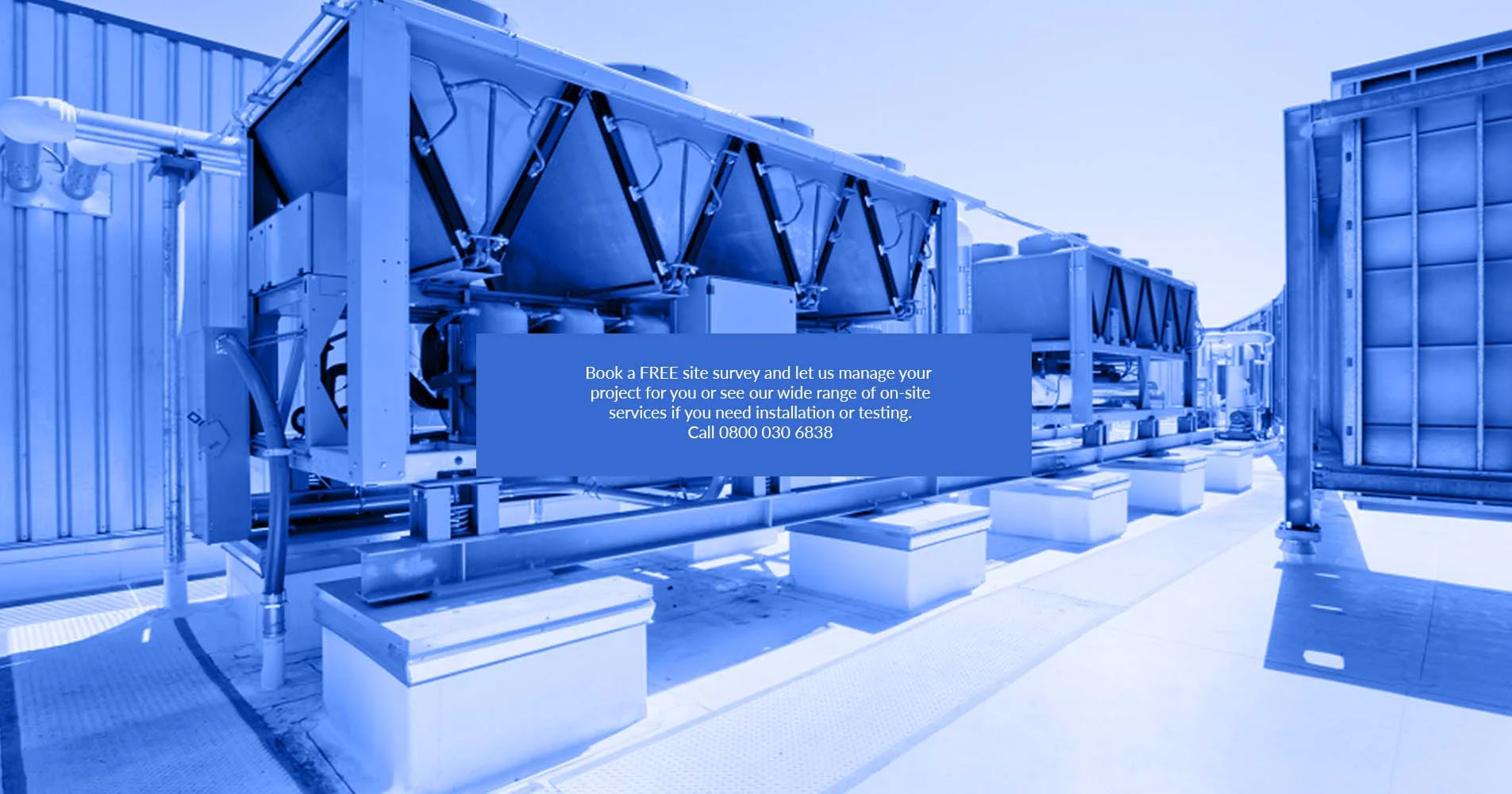 Computer Room Air Conditioners and Room Cooling Solutions
Our datacentre cooling team designs, installs and maintains energy efficient, reliable and resilient cooling systems for datacentres and critical IT facilities. The datacentre cooling solutions we supply are leading-edge and can be customised to meet your cooling and energy efficiency requirements. They include precision datacentre cooling for high density racks, computer room cooling and hot-aisle/cold-aisle containment systems.
Datacentre Cooling Surveys
Our cooling projects team can provide a free site survey and design service for your data centre cooling project. The service covers new build datacentres, refurbishments and hardware refresh programmes where we are asked to provide recommendations on how to:
Improve resilience, energy efficiency and/or future scalability
Meet an Uptime Institute Tier-rating or specific EU Code of Conduct
Reach a Power Usage Effectiveness (

PUE

) or other energy efficiency metric
Reduce a carbon footprint and meet corporate social responsibility goals
Make use of local renewable power or an energy storage system
Following an initial discussion the team will complete a full survey of your facility, working with site plans and in conjunction with your site architects and local facilities engineers. If the survey highlights a need or more detailed analysis including computational fluid dynamics and air flow modelling we will advise this.
On completion of the survey our data centre cooling team will provide a detailed proposal document including information on layouts and the necessary mechanical and electrical works required for a complete cooling system installation or upgrade. A Risk Assessment and Method Statement (RAMS) can also be provided detailing the scope and programme of works and an ROI (Return on Investment) calculation.
The project proposal will include the most appropriate cooling system technology for the facility and design brief in terms of air conditioning, dehumidification, energy efficiency, resilience, scalability, sustainability and ventilation.
Precision Cooling
Our cooling projects team will analyse the site data and propose the most suitable cooling technology.
Precision cooling helps to improve air distribution, cooling and energy efficiency for high-density sever racks. The units may be installed end-of-row or in-row cooling between the server racks and have a high flow rate which may be filtered to remove particulates. There are several types of precision cooling systems for datacentres and server rooms to consider including: air, glycol and water (chilled).
Computer Room Air Conditioners (CRACs) provider perimeter cooling for datacentre halls and server rooms. More than one CRAC unit can be installed within the area and units can be arranged in an N+X parallel/redundant configuration to provide added resilience. CRAC units use a refrigerant as the cooling medium. Computer Room Air Handlers (CRAHs) can be installed in a similar type of installation to CRAC units but use chilled water as their cooling medium. Internal cooling fans and coils are used to provide cool air into the datacentre environment. Other technologies can include Indirect adiabatic cooling (IAC) and free air cooling and may be more bespoke than standard manufactured product ranges.
Preventative Maintenance and Service Contracts
Server Room Environments provides nationwide mechanical and electrical installation services, preventative maintenance and emergency call out contracts including a 24/7 remote site monitoring and technical support.