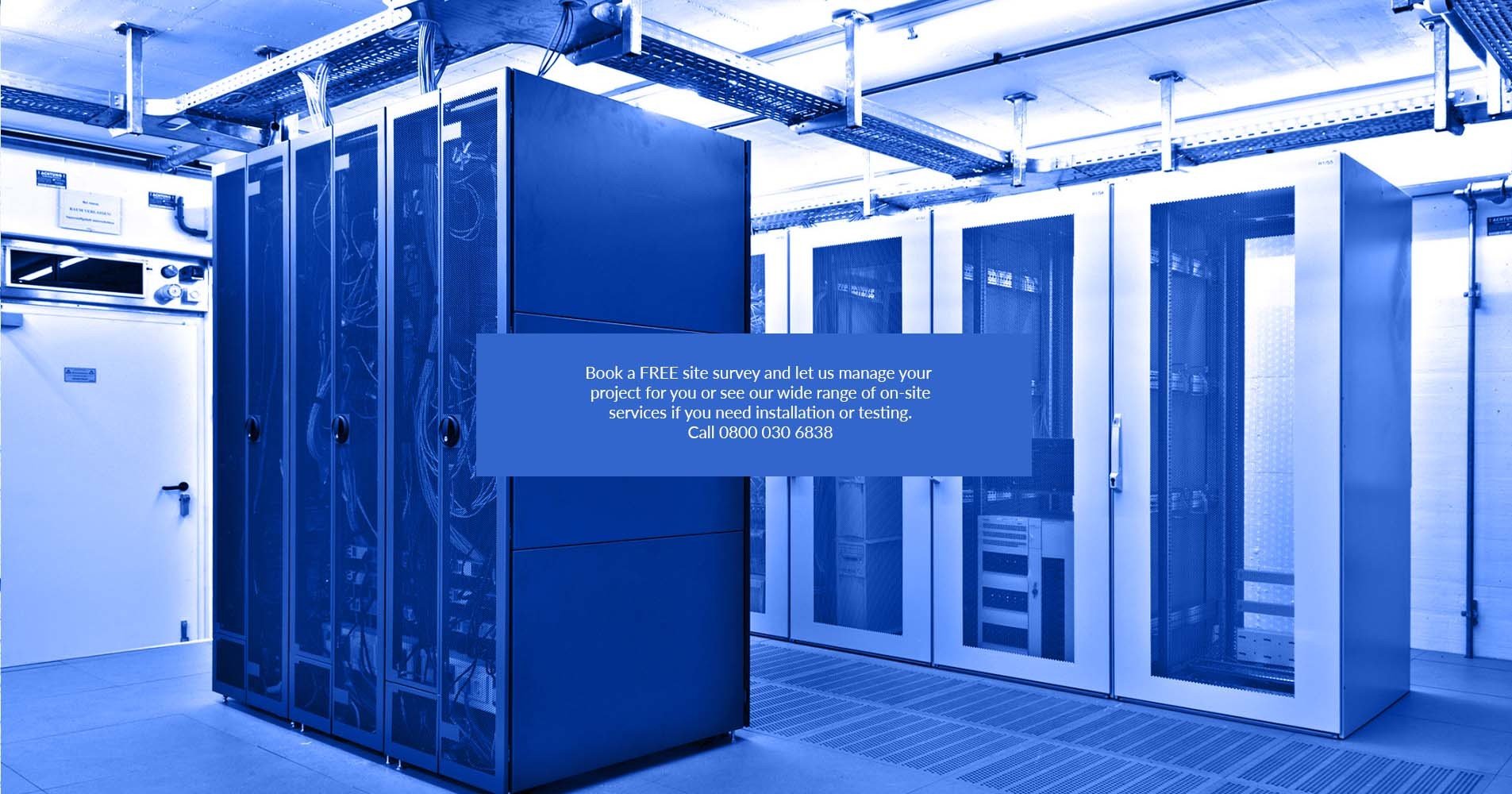 Edge Computing and Micro Data Centres
A Micro Data Centre is a self-contained datacentre or server room environment in a rack cabinet or arrangement of cabinets. Also known as a micro-datacentre or MDC, the solution contains everything needed for easy deployment including power protection, cooling and connectivity. Micro Data Centres provide an on-site data processing facility exactly where it is needed and can be a standalone solution or connected to a wider IT network and Cloud datacentre environment.

Bespoke section(s)
On-site Server Room Facilities
A micro data centre provides a cost-effective solution for sites where space is at a premium or the existing server room or datacentre cannot be easily expanded or reconfigured. Typical installation sites for micro data centres includes factories and industrial automation, retail and distribution warehouses, hotels and office complexes, universities and colleges, transportation and security infrastructures.
All that is needed for a micro-datacentre to be installed are connections to a local:
mains power supply for the built-in uninterruptible power supply
pipework and ducting access or ventilation for the built-in air conditioning system
IT network or Cloud access
Custom Built Data Centres
Micro data centers can also be configured for harsh and remote environments to bring high power computing to the Edge of the data processing network. Micro Data Centres built for a harsh environment would allow for higher ambient operating temperatures and extremes, vibration and air polluted with corrosive elements, dirt and dust.
Containerised Datacentre Solutions
Micro-datacentres can be built into standard 20' or 40' containers for installation outside a building or in remote areas. The container provides a protective outer shell for security and from environment elements. Additional containers can be installed to scale-up a micro data centre facility. Additional containers can provide standby power generation in the form of generating sets to provide power during long mains outages or in remote areas where the local mains power supply is unreliable and intermittent.
Bespoke Metal Cabins and Portable Buildings
In addition to converted shipping containers, portable metal cabins can be built to more specific space, shape and environmental conditions. This type of building could be used for off-shore environments, remote renewables, mobile telecoms, military or health facilities.
Local Energy Storage Solutions
Micro-datacentres can be coupled to local energy storage systems (LESS) and be powered as part of a virtual power plant (VPP). This type of arrangement requires an uninterruptible power supply coupled with a lithium-ion battery set and battery management system. The lithium batteries may be charged from the local mains supply or via an arrangement with a local renewable power installation.
Key Features and Benefits
Micro-datacentres provide a complete solution and alternative to an on-site server room or small datacentre. The main features include:
Typical power configurations up to approximately 100kW
A 'connect and go' server environment to which clients simply add their servers
Future proof with expansion space for additional servers built into the

MDC

Secure facilities to prevent tamper and access without the right credentials
A highlight scalable solution with a low cost per kW of power
High operating efficiency with a Power Usage Effectiveness (

PUE

) ratio around 1.2 at 27˚C
An isolated environment with no heat transfer into the site the micro data centre is installed onto
Standardised configuration for rapid role out and ease of maintenance
High efficiency cooling arrangements using direct expansion or chilled water cooling and close-coupled air handing units to prevent hot-spot build-up
Resilient power protection using on-line

UPS

systems and batteries sized to provide back-up runtimes and orderly system management in the case of a prolonged power outage
Intelligent power management using smart PDUs that can monitor electrical load characteristics and power consumption down to the individual socket level and report on environmental conditions
Secure environments from the

MDC

entry point using biometric access control and or card readers down to individual layers within the rack arrangement using wireless locks and keypads
Return on Investment
Micro data centres are cost-effective designs and can provide an excellent return on investment (ROI). An MDC can immediately boost productivity on-site and be delivered as a standardised solution very quickly into most environments.
Maintenance Contracts
Each critical system within the MDC will require preventative maintenance and can be included within a maintenance contract. Other services would include emergency call-outs, 24/7 technical support, spares, consumables and service level agreement on response and fix times. Remote MDC monitoring can also add another layer of security to the installation.
Server Room Environments provide a free site survey for micro data centres. Simply contact our projects team for a site or project review.