Eaton 5S 550i 550VA Tower UPS

SKU: 5S550IBS
Prices from £103.28 ex. VAT or £123.94 inc. VAT

Prices from £123.94

Prices from £103.28
Total price inc. delivery from £110.78 ex. VAT or £132.94 inc. VAT

Total price inc. delivery from £132.94

Total price inc. delivery from £110.78
Total price inc. delivery from £116.28 ex. VAT or £139.54 inc. VAT

Total price inc. delivery from £139.54

Total price inc. delivery from £116.28
Total price inc. delivery from £133.38 ex. VAT or £160.06 inc. VAT

Total price inc. delivery from £160.06

Total price inc. delivery from £133.38
Total price inc. delivery from £238.29 ex. VAT or £285.95 inc. VAT

Total price inc. delivery from £285.95

Total price inc. delivery from £238.29
The Eaton 550VA 5S line interactive uninterruptible power supply provides power protection from voltage fluctuations and power outages. The UPS has a built-in automatic voltage regulator (AVR) to provide protection from sags, surges and brownout power conditions. The 5S also has built-in telephone, broadband and Ethernet line surge protection. The 5S UPS has a small form factor and can be installed vertically on or under a desk or horizontally under a screen. Available sizes include 550VA, 700VA, 1kVA and 1.5kVA sizes.
Eaton 550VA 5S UPS Features
4

IEC

outlet sockets with surge protection
4

IEC

outlet sockets with surge protection and battery backup
ON/

OFF

push button and

LED

interface

USB

connectivity and

HID

functionality
Dataline protection
User replaceable battery
Reset button (circuit breaker)
Automatic restart
Eaton 5S 550VA UPS Applications
Workstations and network devices
Internet of Things (IoT) products and gateways
Business IP telephony systems
Retail EPoS equipment
The Eaton 5S 550VA UPS system has a 3 year warranty and is compatible with Eaton UPS Companion power management software. The UPS is supplied with two IEC-IEC power cords and a USB cable.
Other Eaton 5S UPS Models
Eaton 5S 700i 700VA Tower UPS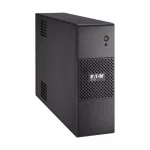 from £139.58
Eaton 5S 1000i 1000VA Tower UPS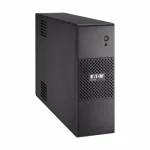 from £226.53
Eaton 5S 1500i 1500VA Tower UPS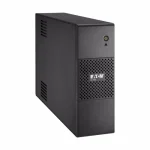 from £303.13