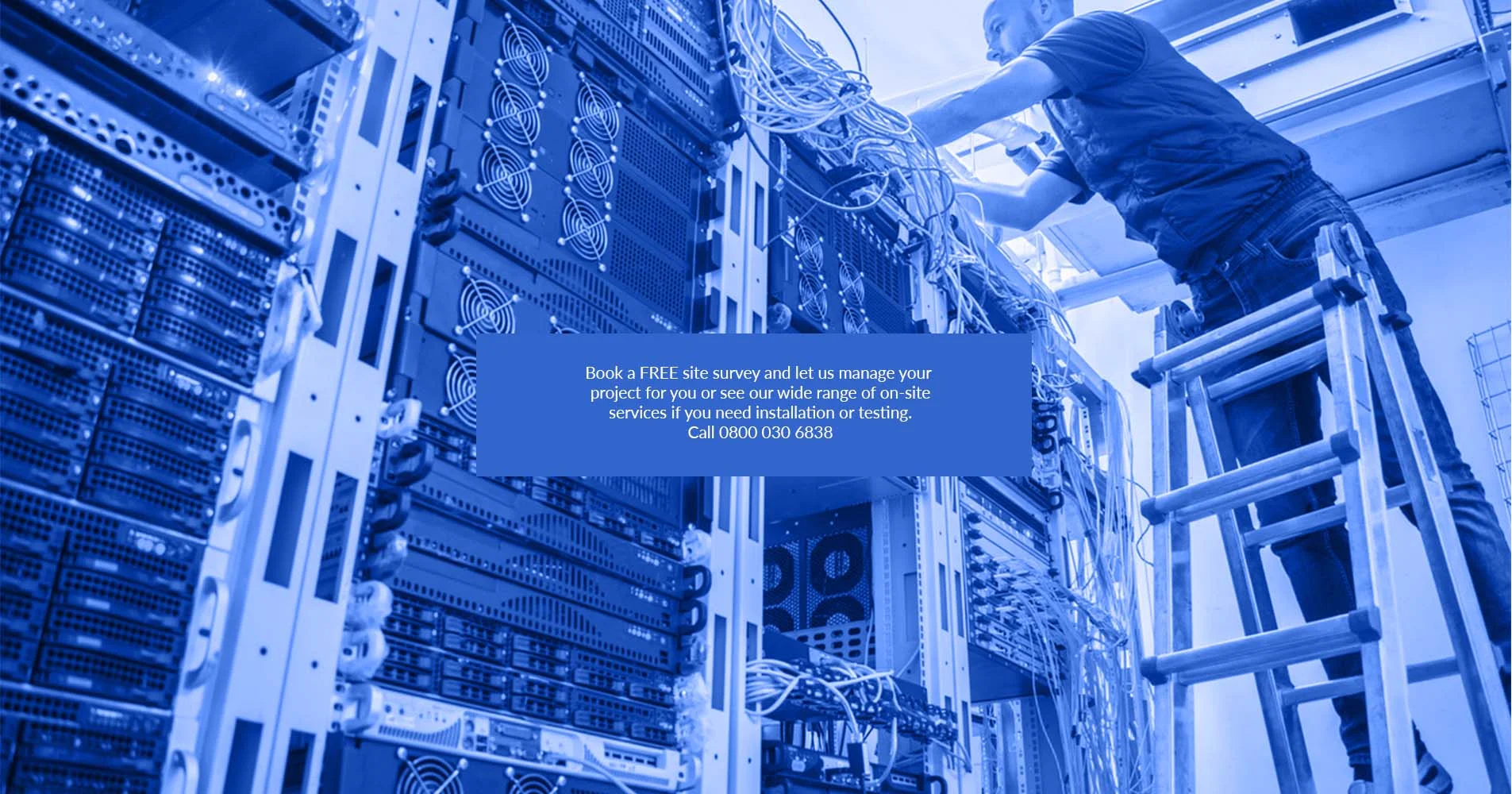 Server Room Design
Server Room Environments are specialists in the design and build of server rooms, comms rooms and datacentres including modular and containerised. We have developed a strong track record in server room and data centre design, installation, upgrade and maintenance including critical power systems, cooling, racks and fire suppression.
Data Centre Design and Server Room Consultants
We are at the forefront of the energy revolution delivering projects using the energy saving technologies and local energy storage. Specialists within the Server Room Environments team are CDC-certified in terms of data centre design and energy efficiency.
Clients can engage with Server Room Environments at any stage of the development and running of their IT environments:
New greenfield datacentre buildings
Brownfield site development
Existing room upgrades
Existing system upgrades
Edge computing facilities
Micro-datacentre installations
Computer Room Design and Build
We work with architects and M&E consultants, and your own site contractors. We are brand agnostic, so that we can take a consultative approach to finding the right solution for your server room design, whether the project is for a new air conditioning system, modular high efficiency UPS system or the supply and installation of new server cabinets for a data hall.
For our engineers, it all comes down to the performance specification required in term of resilience, energy efficiency and sustainability – as well as budget and timescales. We base our server room design service on best industry practice and the 35 years' experience we have within this industry and the specific specialist areas of critical power and critical cooling, electrical works and facilities management for data centre buildings.
Data Centre and Server Room Layout and Design Tips
If data management is key to your business or organisation then you need a server room layout that allows for efficient data management, including storage and network capabilities. To achieve this every aspect of the layout of your server room requires best practice to ensure each system component is optimised and running consistently with contingencies in place to remove any potential risk of downtime.
Server Room Space Air Flow and Cooling
The overall space for your server room should be designed to optimise cooling and access. This means arranging server racks based on standard floor tiles and achieving a design that provides the right power density for today, and potentially future expansion.
The environment also needs to be dust free with provision included for regular deep cleaning services and good access for maintenance, especially in difficult to access areas within and behind server racks and cabinets.
Network cable access and design should be organised to prevent accidental disconnections and easy identification. Structured network cabling should be used with organised pathways, uniform colours and labelling and connection maps available for technicians.
The server space should be well lit with LED lighting for energy efficiency and overall should provide a comfortable work area for employees, visitors and sub-contractors. Access to the server room should be controlled and it may be necessary to install server cabinet access controls within high security or co-location environments.
Environmental Controls and Remote Monitoring
Cooling management may include the use of cold aisle and hot aisle containment or make use of standard server rack and air conditioning systems. Whichever
cooling method is used, it is important to install environment monitors within the server room and at the server rack level.
Environment monitoring systems can monitor for a range of conditions including temperature, humidity, humidity, leaks, vibration and tamper. Alarms can be sent out via text SMS or emails or to a central building management system (BMS) panel as well as phone Apps. Without adequate server room monitoring, a potential heat build-up could lead to a dangerous build-up of heat within a server rack resulting in a risk of fire.
Fire Suppression Systems – Rooms, Racks and Servers
Whether you choose to build fire suppression into the server room or to deploy a system at the room level it is vital that you select the most appropriate and ensure it is maintained. With a typical server rack generating from 10-30kW of heat, a cooling system failure can lead to a potential fire risk within 5-10 minutes. What makes this even more of an issue is that server rooms and data centres have people working within them who will need to evacuate from the room before the fire suppression system releases its inert gas.
Power Protection Plan,
UPS

System and Standby Power Generators

Protection from mains power supply failures is an important critical infrastructure decision. Uninterruptible power supplies may be used at a server rack or row level as part of a de-centralised power protection plan. Alternatively, a large centralised UPS system may be installed to protect an entire facility with backup from a standby power generator.

Whether the data centre or server room facility uses a centralised or de-centralised power protection plan, systems should be monitored via IP/network SNMP and remote monitoring systems.

The power protection plan should also incorporate thought as to the use of renewable power, on site energy storage and energy efficiency metrics.
Micro Data Centre Solutions
At Server Room Environments we adopt a total engineering approach to ensure we deliver power, cooling and environmental management systems that are right for the application. We can provide a complete 'turn-key' solution in the form of a micro data centre (MDC) that can plug directly into your building's critical infrastructure or build a complete server room on your site.
There are several key aspects when it comes to best practice micro data centre design. The principle design elements we consider include:
Energy efficiency: energy costs continue to rise and can result in higher total cost of ownership (

TCO

) calculations. Working with leading brands and manufacturers we select the right systems for the server room or datacentre project in hand and ensure that we optimise energy efficiency to meet objectives such as Power Usage Effectiveness (

PUE

) from our clients or ones we suggest can be achieved.
Resilience: one of the key concerns in any design is the resilience required and whether the design is to be to a specific Uptime Institute Tier-rating. Our consultants have worked on and delivered Tier I to IV designs with redundancy built in for cooling and critical power to ensure specification compliance and certification by external auditors.
Renewable power: tied into the critical power aspects of design are current issue son the use of renewable power and energy storage. Our engineering team can advise on local on-site power generation and usage from solar PV or wind turbines as well as the sourcing of renewably generated power from on-shore or off-shore solar and wind farms.
Energy storage: as well as supplying uninterruptible power supplies and standby power generators, our engineers can also advise and deliver energy storage allowing clients to use their locally generated power or take part in National Grid Demand Side Response (

DSR

) programs designed to maintain grid frequency.
Modular and scalable designs: it is important to build server room and datacentre environments that are modular and can be easily scaled for today's demands and future growth. All our designs are scalable allowing clients to expand their power and cooling system capacities to suit extra rack and server requirements or to downsize as operations become virtualised or include Edge and Cloud operations.
Design standards: there are several standards that can be considered for server rooms and datacentres and our consultants can advise on the most applicable to the design and project in hand. Examples include:

the Uptime Institute Tier Ratings

ANSI

/

BICSI

002-2014 Data Centre Design and Best Practice

ANSI

/

TIA

942-A 2014 Telecommunications Infrastructure Standard
EN50600 International Datacentre Standards

ISO

27001 Information Security Standard
BS 7671 Electrical Wiring 18th Edition

Safety: this can cover several areas ranging from the most appropriate type of fire protection system to temperature and humidity monitoring, to access control and overall security. Above all the environment must be comfortably and workable within for both the IT systems and the engineers who will manage their day-to-day activities.
Sustainability: to ensure your IT facility has the lowest possible impact on the environment, uses the least possible amount of natural resources and supports long-term ecological balance
Our principle server room and data centre design partners are Hurstwood Environmental Consulting who have offices in Bolton, Liverpool and London. Hurstwood have worked on server facilities and datacentre designs with us in the UK and overseas and have an established track record in mechanical and electrical projects.
Server Equipment and Systems Integration
Server Room Environments provides a complete systems integration service. We are manufacturer and brand independent, allowing us to work with the right systems for our clients and provide them with a completely bespoke and customised solution to meet the needs of their server room or data centre application.
Typical projects range from new build data centers to system capacity expansion, renovation and refurbishments for which we provide a range of services from consultancy to turnkey installations. We have built a range of competences to ensure we can work with virtually any type of server room or data centre design project, no matter what the vertical market is or final application – Enterprise or Co-location, Cloud or Edge.
Critical infrastructure projects
Initial concepts, plans and drawings
Detailed designs and project plans
Application planning and liaison with local authorities
Project management including factory and on-site witness testing
Handover, training and certification
Ongoing reviews and maintenance including energy efficiency performance
End-of-life disposals, consumables management and eco-friendly recycling
We also provide standard and extended warranties for the systems we supply and maintenance contracts which are customised to the needs of individual sites. Our maintenance contracts can include one or more preventative maintenance visits, site testing and emergency call out including 4 clock hour, 8 or 12 working hours response times. We also provide a range of options including: thermal imaging, battery testing and load bank testing.
Please contact our projects team for a server room or data centre design project review and ideas discussion to see how we build resilient environments for IT servers, storage and networking systems.