Eaton 3S 700VA UPS IEC Sockets

SKU: 3S700IEC
Prices from £91.71 ex. VAT or £110.05 inc. VAT

Prices from £110.05

Prices from £91.71
Total price inc. delivery from £99.21 ex. VAT or £119.05 inc. VAT

Total price inc. delivery from £119.05

Total price inc. delivery from £99.21
Total price inc. delivery from £104.71 ex. VAT or £125.65 inc. VAT

Total price inc. delivery from £125.65

Total price inc. delivery from £104.71
Total price inc. delivery from £121.81 ex. VAT or £146.17 inc. VAT

Total price inc. delivery from £146.17

Total price inc. delivery from £121.81
Total price inc. delivery from £226.72 ex. VAT or £272.06 inc. VAT

Total price inc. delivery from £272.06

Total price inc. delivery from £226.72
The Eaton 700VA 3S uninterruptible power supply is designed to protect office and home computers from power related issues including local lightning strikes and power surges. The built-in battery provides sufficient runtime to ride through power problems or initiate an orderly shutdown of connected computing devices. The 3S also features telephone, broadband and Ethernet line surge protection. The Eaton 3S UPS system is available in 550VA and 700VA sizes.
Eaton 700VA 3S UPS Features
4

IEC

outlet sockets with surge protection
4

IEC

outlet sockets with surge protection and battery backup
ON/

OFF

push button and

LED

interface

USB

connectivity and

HID

functionality
Dataline protection
User replaceable battery
Reset button (circuit breaker)
Automatic restart
Wall mounting system (option)
Eaton 3S UPS Applications
Computers and peripherals
Broadband modems (internet and TV)
Internet of Things (IoT) products and gateways
IP telephony equipment
Retail EPoS equipment
The Eaton 3S 700VA UPS system has a 3 year warranty and is compatible with Eaton UPS power management software.
Other Eaton 3S UPS Models
Eaton 3S Mini Li-ion UPS 36W Standy UPS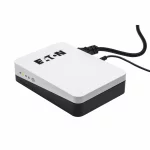 from £43.21
Eaton 3S 550VA UPS IEC Sockets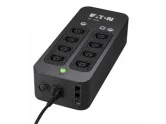 from £66.07