FRAL

Air Conditioners and Dehumidifiers

FRAL has over 25 years in the design and manufacturing of cooling, drying and dehumidification solutions for a wide range of buildings and industrial applications including computer & server rooms, IT rooms and offices. FRAL portable air conditioners are available from Server Room Environments for purchase or rental on a hire basis. The systems supplied are designed to be energy efficient, environmentally friendly and deliver high performance.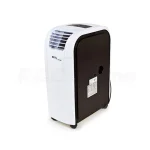 FRAL 4.1kW Portable Air Conditioners
from £433.75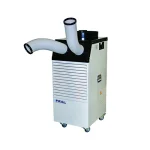 FRAL Blizzard 7kW Portable Air Conditioners
from £1,527.06
FRAL

Dehumidifiers

FRAL is an Italian manufacturer of air conditioners, cooling and dehumidifying solutions.

FRAL dehumidifiers remove humidity from rooms. They function by passing room air through a built-in evaporator (cold coil battery) where it is cooled and dehumidified), then a condenser (warm coil battery) to remove the humidity. A dehumidifier is therefore a refrigerating cycle unit. As room air, comes into contact with a cooled surface, the humidity in the air condenses into water droplets and the air is cooled. Then the air is passed through a warm heat-exchanger to warm up and be returned to the room, dehumidified.

In a portable air conditioner or dehumidifier, the air is exhausted to a space outside the room or external to the building into order to maintain the room temperature: computer room, server room, IT closet or office space. In a portable AC unit, a condenser tray collects the moisture removed from the air and this tray must be emptied regularly for the FRAL dehumidifier and air conditioning solution to function.

For more information on FRAL air conditioning and dehumidifying solutions please contact our Projects Team.