19/07/2020
How Smart Power Devices use IP-Watchdog to Guarantee Uptime
The Internet of Things (IoT) runs 24/7 and when you connect to a smart power device you expect certain functionality, one of which is continuous monitoring. This can be achieved using an IP-Watchdog feature similar to that built-into some smart power monitoring devices.
What is a Watchdog?
In an electronic or computer device a Watchdog feature provides continuous monitoring of a specific feature. There are several Watchdog types including:
Watchdog-Timer: an electronic or software timer used to detect and recover form a computer malfunction. During normal operation, the computer regularly resets the Watchdog-Timer to prevent it from 'timing-out'. If there is a hardware fault, failure or system error, the computer fails to reset the Watchdog-timer and a timeout signal is generated which can be used to initiate a connective action.
Power-Watchdog: a similar function is provided by a Power-Watchdog. The feature detects the presence of power i.e. an AC (alternating current) power source. If the power source fails or is removed, the Power-Watchdog detects this and can initiative a response including an alarm and initiative a specific function.
IP-Watchdog : provides automatic IP-network detection and can be used to monitor whether a give process or part of a system is connected to the local Ethernet/IP network and operational. If not the Watchdog-IP function can automatically alarm and restart the connected device.
What is an
ICMP

Ping?

IP-connected devices are usually monitored using ICMP PING replies. In this instance PING is a computer network administration software utility that operates by sending an Internet Control Message Protocol (ICMP) echo request packet to a target host and waiting for an ICMP echo reply.

A device is operational and functioning, if it is connected to a network and responds to a PING request. If a reply fails to arrive within a specified time or after a set number of attempts, the IP-Watchdog disconnects power the connected device to restart it. Also, a PING reply does not guarantee that a tested device is functioning to specification. An example of this is an IP-surveillance camera which can respond to a PING over a network but whose lens or imaging encoding feature is not operating correctly.
How IP-Watchdog Can Reduce Field Engineer Visits and Service Costs
When smart power devices are used in remote locations, IP- Watchdog provides a way to automatically restart the device and any connected loads. The only other alternative would be to send a field service engineer to site. Not only will this incur labour and travel costs but there will also be an inevitable time delay. During the period, the connected devices may be inoperative. All they required was a remote or automated power recycling; something easily provided by an IP- Watchdog feature.
When used with Ethernet LAN/Wi-Fi connected products, IP- Watchdog can also indicate if there is an issue with the network itself in terms of routers, switches, and microwave links. This function is sometimes referred to as AutoPING, Heartbeat or PING Heartbeat. Each output has its own IP-Watchdog function i.e. one IP address for each output. If there is an issue, using a LUA-script a red alarm beacon be turned on when powered from one of the sockets on a Netio PowerBox-3Px with UK sockets for example.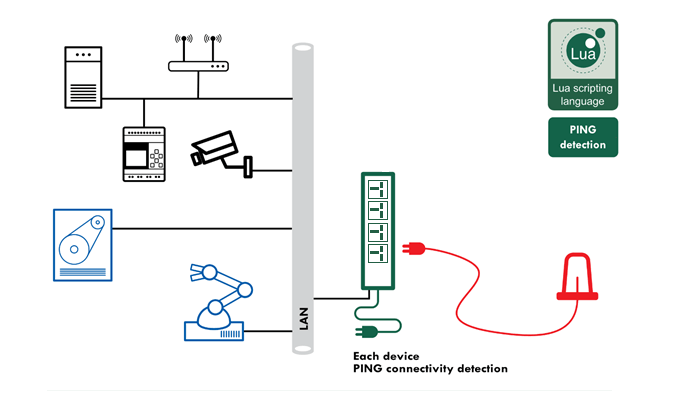 IP-Watchdog Devices
The IP-Watchdog features do not always have to be built-into a device. Another example is the IP-Watchdog2 LITE. This device can be connected to an Ethernet LAN and used to detect internet connection and LAN connected device status over a defined time-period and over 10 channels. If a connected device stops responding (a fault or accidental disconnection) or the internet connection is down, IP-Watchdog2 LITE can restart up to two connected devices using its own digital output (DO) relays. Alert notifications can also be issued via SNMP, email or two address over a LAN or indirectly via text SMS with an appropriate SMS gateway device. IP-Wathdog2 LITE can also be monitored remotely over the Internet via the Cloud-based SensDesk remote monitoring software platform.
Summary
There are several types of Watchdog feature but the most important for smart power solutions and environment monitoring devices is IP-Watchdog. Not only can this feature be used to detect the present of an Ethernet/IP connection but it can also be used to initiate an automatic power cycling of AC powered systems or network components connected to a remotely controlled power socket. IP-Watchdog is easy to set-up and control on-site or via a Cloud-based software monitoring portal such as Netio Cloud (for smart power devices) or SensDesk for compatible environment monitoring devices. IP-Watchdog provides an ideal way to remotely monitor and control devices and remove the costs & time associated with field service engineer visits. As more devices are deployed and connected to the Internet of Things, the importance and usage of IP-Watchdog will increase.