05/12/2018
UPS System Maintenance Checklists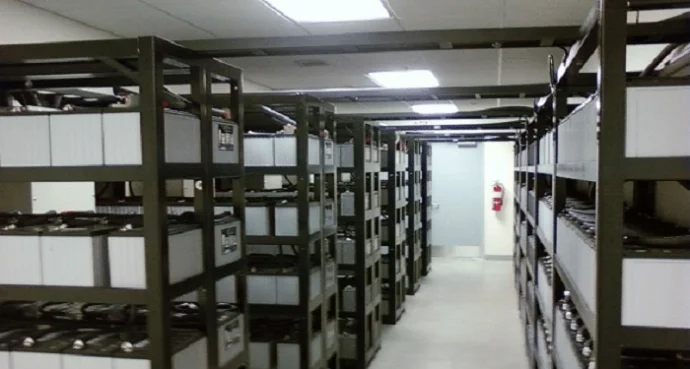 With winter upon us it is surprising how many uninterruptible power supplies are in use and not regularly maintained. Not surprising a lot of these UPS systems tend to be the smaller single phase and three phase UPS systems that can be scattered across a large site or hidden away in server racks and computer rooms.
Is this an issue and the best way to manage a critical power system? Well one of the biggest issues for UPS systems that are maintained is the batteries. This problem will become more exposed as more systems are connected to the Internet of Things (IoT). The number of connected devices is expected to reach 31 billion by 2020 (https://www.statista.com/statistics/471264/iot-number-of-connected-devices-worldwide/).
Single and Three Phase
UPS

Systems

Most single-phase UPS systems and smaller three phase output devices up to 20kVA are typically installed with 5-year design life valve regulated lead acid (VRLA) batteries. These batteries will have a typical working life of 3-4 years when operated in an ambient environment of 20-25˚C. For every 1˚C rise in ambient temperature above 30˚C the battery design life halves.

Larger three phase UPS systems from 20kVA typically have a 10-year design life battery installed and will have sophisticated battery management systems. These three phase UPS will test their batteries on a regular basis (every 24 hours) and use advanced battery management techniques to help prolong the life of their battery sets. They will use predictive algorithms to check test measurements against battery type profiles and indicate when their batteries require inspection. This size of UPS will also be subject to a UPS system maintenance checklist at least one if not twice a year during a preventative maintenance visit.

The issue for smaller single-phase UPS systems is two-fold. Firstly they may not be subject to a UPS system maintenance checklist and secondly their battery management circuity may not be as sophisticated. These smaller UPS will have less batteries as their inverter systems may operate on smaller DC input voltages than larger three phase UPS. For example the input DC for the inverter may be 24, 36, 48, 60 or 120Vdc giving rise to battery sets of only 2, 3, 4, 5 or 10 batteries. These UPS will test themselves every 24 hours and may have some advanced battery management techniques including temperature compensating charging, but the chances are that the batteries will be flagged as 'failed' or in need of inspection when they are very close to failure or have failed.

The for UPS with less sophisticated battery management is that they can fail suddenly and most likely when the UPS battery is placed under load during a mains power failure. The UPS industry quotes that 80% of UPS failures are due to battery issues. Batteries degrade with age, performance and temperature. Without the ability to store electrical energy a UPS system can simply fail when the mains power supply is removed and there may not be enough stored runtime for a safe and orderly shutdown of your network system.
Preventative
UPS

Maintenance Visits

Unlike larger air conditioning systems (above 12kW) it is not mandatory to have a UPS system inspected or maintained. The driver to place an uninterruptible power supply under a UPS maintenance contract is purely the recognition of the critical role the UPS system plays within the facility, whether it is a server room, datacentre or industrial facility.

A UPS maintenance contract will provide several options within the contract price including emergency call out and 24/7 technical support. It should also include at least one preventative maintenance visit and for some critical sites this can be increased to two visits a year.

During a preventative maintenance visit the UPS engineer will complete a pre-set program of works to a UPS system maintenance checklist specific to the make, model and type of installation. The inspection will cover:
Visual inspection of the battery set and

UPS

system, connected mains cables, battery cables, distribution boards and the external maintenance bypass switch, if installed.
Battery terminal connections will be inspected and tightened and re-torqued.
Alarm and system logs are downloaded and inspected to see how the

UPS

has performed since the last visit.
Internal components are inspected for age, wear and tear and cleanliness.
Consumable items like fans and AC and DC capacitors are inspected and replaced according to their replacement programs.
Checks are made for corrosion in extreme environments that can see dust build up or chemical or salt erosion.
Thermal checks may be made using thermal imaging cameras which are used to find hot-spots in the

UPS

, batteries, cabling, distribution and LV switchgear connected to the

UPS

system.
Electrical measurements are taken from the front panel

LCD

to identify input and output performance per phase.
It is always useful to test the

UPS

functionally at least once a year and load banks can be used for this purpose using variable load profiles from 25 to 100% of the full load potential.
Maintenance bypass arrangements are tested and inspected. Functional testing of the

UPS

and bypass arrangements is only performed subject to permission or an official permit from the client site, facilities, IT or datacentre manager.
As well as being visually inspected individual batteries can be tested using a hand-held battery testing and their measurements recorded and compared to pre-stored characteristics for that specific make and model of battery. Over time the recorded results can help to identify reducing battery performance at an individual battery block level. Early identification of this can lead to predictive failure of an entire battery set.

UPS

inspection and maintenance records are updated. These should be electronically filed on a local or Cloud based database as well as being available as a printed record in a file nearby the

UPS

system. Over time

UPS

maintenance logs can provide a good overview of the operational history, identifying problems,

PCB

, component and battery changes and any overall concerns for the site staff to address.
Firmware may be updated to bring the

UPS

system up to the current level of specification and operational performance. This should only be done with permission from the site.
At the end of the preventative maintenance visit the UPS engineer should run through any findings and request a sign-off (either manual or electronic) for the inspection. The UPS engineer may provide a run through of the UPS maintenance checklist completed and provide any advice or guidance for future inspections.
UPS maintenance contracts and preventative UPS maintenance visits can be critical to the overall health of a UPS system. If the uninterruptible power supply is not maintained the user or operator is reliant on the internal battery testing of the device itself. If this is the case, they should follow the 'best practice' advice if replacing their UPS batteries every 3-4 years.
For smaller UPS systems this may be possible without the need of a certified UPS engineer if the batteries are user-replaceable. Replacement UPS batteries can be ordered as kits that can include an instruction on how to dispose of the replaced UPS batteries in an environmentally friendly way via registered recycling centre. If the batteries are not user replaceable then they should be replaced by a certified UPS engineer or electrical contractor or electrician with the necessary training and DC environment training.
Lithium Batteries and
UPS

Systems

A growing trend is to now install UPS systems with lithium-ion batteries. This practice is becoming more common where users want to use their UPS battery set for local energy storage or to earn revenue as part of a National Grid demand side response program.

Lithium batteries have a longer working life (up to 20 years) and are more suited to the rapid charge/recharge cycles required for local energy storage systems. The batteries require a more sophisticated battery management system than VRLA batteries.

In terms maintenance, the UPS engineer should again complete a UPS maintenance checklist but one specific to systems installed with lithium-ion batteries. Thermal imaging may be more important to identify heat-spots within the lithium-ion battery pack as thermal runaway can be a potential issue.

Lead acid batteries are more suitable to the traditional standby operation of a UPS system and are more recyclable. More than 90% of a lead acid battery can be recovered. Techniques for lithium battery recycling are still in their infancy.