17/03/2019
The Importance of UPS Maintenance Plans and Periodic Inspections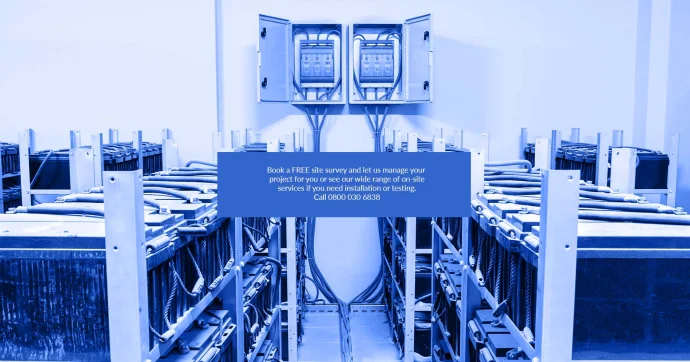 We expect modern electronic and electrical systems to be energy efficient and require minimal preventative maintenance. How true is this of a modern high-efficiency uninterruptible power supply?
It is important to remember that a UPS system is a critical device and one that is deployed to provide backup power in the event of a mains power failure. When there is a power outage, the UPS is the most immediate source of stored energy. The device must perform in order to prevent an outage and downtime.
Modern power electronics and manufacturing techniques have resulted in the very high efficiency UPS systems we have today. Whether the UPS is a monoblock or modular UPS design, the system will include an array of monitoring and advanced management systems, designed to improve operational efficiency and improve working life expectancy.
However sophisticated these are, and some firmware may include predictive algorithms, the fact is that uninterruptible power supplies have consumable parts that required regular inspection and replacement. If consumables are not replaced due to operational and maintenance budgets, failure of the uninterruptible power supply becomes inevitable.
For a UPS system the primary consumable is the battery set. This will most likely be a valve regulated lead acid (VRLA) battery. Lithium UPS batteries are becoming more popular but in the main a VRLA battery is still the most widely adopted. If we are looking at a lead acid battery, its replacement timeframe will depend upon several factors including design life, operational room ambient temperature and the number of charge and discharge cycles the battery set has been subjected to.
UPS

Batteries

Most single and some three phase UPS systems use a 5-year design life VRLA battery. What this means is that battery is designed to last up to 5 years when operated at 20-25˚C and for number of charge/discharge cycles (typically 300-400). Most 5-year battery replacements take place within 3-4 years of installation. For a 10-year design life battery, the replacement is typically made within 7-8 years of installation.

High temperatures have a detrimental effect on batteries. For every 1˚C rise above 30˚C the design life halves. It is important to ensure that there is adequate air flow around a UPS battery installation as they are exothermic on discharge. Within a confined space such as a server rack, the should also be enough provision for precision cooling to achieve a 20-25˚C ambient.
UPS

Fans and Capacitors

Other consumables within a UPS system includes cooling fans and AC and DC capacitors. Both items have a design life and mean time between failure (MTBF). UPS maintenance schedules will take this into account and the UPS itself may also include fan monitoring to alarm when there is a failure. Most UPS include multiple cooling fans; speed controlled and temperature compensating.

Fans and capacitors are typically replaced within years 8-10 as part of a refurbishment. Whilst the fans are generally sealed units their bearings wear over time and within dusty environments, it may be necessary to replace fans earlier. Capacitor failure can lead to a fire risk and potentially a complete system failure due to their power density and concentration of flammable film which tends to be polypropylene.
UPS

Preventative Maintenance Visits

Preventative maintenance is the key to the long-term viability of an uninterruptible power supply. Most sites are visited annually with some critical datacentres, usually higher tier-rated sites, opting for six monthly visits. During a typical UPS preventative maintenance visit the UPS engineer will typically carry out the following:
General: inspect and clean the

UPS

system, batteries, cabling, bypass and accessories

UPS

Alarm and History Logs: check operational history and alarm logs
Meters: check input and output voltages and currents for value to specification
Connections: inspect and adjust AC and DC electrical connections
Cooling: check fans for operation, dust and dirt
Operation: check the transfer from inverter to static bypass and back
Mains power supply failure: simulate operation with or without load bank
Firmware: check firmware version and upgrade as required
Another important factor when considering UPS maintenance is the use of a manufacturer certified engineer. Whilst the service may cost more, the use of certified personnel ensures that the engineers have access to the UPS manufacturer's technical support team, documentation, firmware updates and approved spares. This also ensures there are warranty infringements and can provide a warranty for any rectification work that is back-to-back with the UPS manufacturer themselves.
UPS

Maintenance Contracts

There are several types of UPS maintenance contract available and these essentially provide different speeds of response, parts and labour cover and overall support. Whilst these are standard UPS contracts, they can generally be tailored to suit individual sites and specific Service Level Agreements (SLAs).
UPS

Maintenance Contract
Platinum Level
Gold Level
Silver Level
Bronze Level
Preventative Maintenance
1 per annum
1 per annum
1 per annum
–
Emergency Response
4clock hours
8 working hours
12 working hours
best endeavours
24/7 technical hotline
included
included
included
working hours
Firmware upgrades
included
included
included
–
Labour cover
included
included
included
–
Parts cover
included
included
included
–
Battery Cover
extra cost
extra cost
extra cost
–
On-site Crash Kits
option
option
option
option
247 Remote Monitoring
option
option
option
included
Monthly Status Report
option
option
option
alerts reported
Individual Battery Testing
option
option
option
–
Load Bank Testing
option
option
option
–
Thermal Imaging
option
option
option
–
The ultimate level of UPS contract tied to a service level agreement is 'Diamond'. This includes Platinum features and offers a guaranteed fix time. For some sites, faster response times up to 2 clock hours may be available dependent upon the distance from the site of a UPS maintenance engineer or service depot.
Generator Service Contracts
For any power protection plan it is important to consider all the elements within the critical power path. A chain is only as strong as its weakest link. If there is a standby power generator, this also needs to be placed under a generator service contract and one that is similar if not matching to the terms of the UPS maintenance contract. Most generators will require inspection at least every year if not six-monthly. It is also important to regularly start and test the generator to ensure there are no start-up or power-down issues. Testing can be done during a preventative maintenance visit using either the 'live' or a 'dummy' load test bank.
UPS

Maintenance Bypass Switches

Most three phase UPS systems and some single-phase UPS will have a built-in maintenance bypass. This will isolate the UPS during maintenance to allow the system to be worked on safely. An external UPS maintenance bypass is always a preferred addition. This may or may not use Castell interlocking with local LV switchgear.

External UPS maintenance bypass switches area available to match 1/1, 3/1 or 3/3 configured UPS installations. The benefit of this type of maintenance bypass is that the external switch allows complete electrical isolation and if necessary, the removal and replacement of the uninterruptible power supply without disruption to the connected loads. Furthermore, any such work can be completed during normal working hours rather than outside working hours which can incur further costs.
Remote
UPS

Monitoring Systems

UPS monitoring software can be deployed to further enhance alarm reporting, fault finding and overall speed of response. The UPS may be installed with an SNMP card to provide a local IP network connection or a GSM modem for remote connection to a cloud-based UPS monitoring package.
Summary
Regular maintenance is critical to the availability and resilience of an uninterruptible power supply and should be budgeted for at the time of purchase. The contract should include all labour and parts and may also be priced to include consumable items including at least one fully battery set replacement. Without regular maintenance sudden failures can occur with over 80% caused by a poorly maintained battery set.