06/04/2017
Cleaning Your Critical IT Environment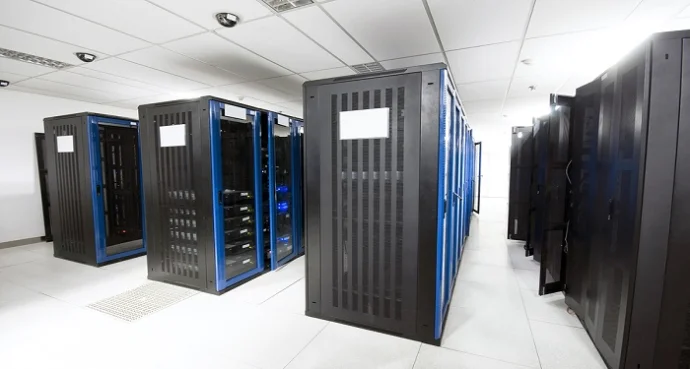 Datacentres and server rooms are like any other building space. Airborne contamination is inevitable.Sources will include the equipment being used within the rooms and the people entering them and nearby sources including other offices, industrial parks and traffic. he fact is that any air sample contains particles that can have travelled hundreds if not thousands of miles. These particles can build up and harm sensitive IT equipment leading to performance issues, increased energy usage (heat build-up) and potentially failure.
Nearly every type of IT device has a cooling fan that will draw these particles through them. Particulate build up is inevitable on cooling fans, cases and PCBs and can also lead to a build-up of static electricity.
As well as the inevitable dust that one often sees build up in server cabinet racks, there are also hidden particle sources. Within a datacentre these can lie within ceiling voids or raised access floor spaces which become disturbed when they are access or simply walked upon.
For example, zinc crystal deposits (known as 'zinc whiskers') can appear on zinc-plated metal surfaces which when can themselves become electrostatically charged and conductive. As the underside of raised access floor tiles are typically zinc coated, any movement of the floor tiles (when checking cabling for example) can lead to the crystals being dislodged on to the computer room floor where the will eventually become airborne and sucked into IT servers by the cooling fans.
Air conditioning ducts are also a potential source of this type of contamination. Ceiling voids are an obvious area where dust can build up and the same applies to suspended lighting and cable trays. It does not take much to disturb this dust where it will naturally fall to the floor, with the potential for re-circulation or build-up on lower systems.
Manufacturer's warranty is another issue to consider. Most warranties include a 'misuse and abuse' escape clause which allows the manufacturer to refuse to honour any product warranty if the installation is not to specification.
For very sensitive IT equipment the specification may even call for the room space to be to the ISO 14644-1 Machine Room standard in terms of cleanliness (a clean room environment).
It is not just existing facilities that require a regular cleaning service. New builds and refurbished areas also require a full clean service before they are populated with server racks and IT systems. A deep cleaning service is required that covers ceiling voids, raised access floor plenums, pedestals and stringers (where fitted), as well as the top-of-tile floors and any other exposed areas within the vicinity to ensure they are dust free and clear of any other potential contaminants.
Regular cleaning is a must and most IT manufacturers recommend that existing server room and white space facilities are cleaned regularly up to two times a year. If there is any local infrastructure or other on-site work this frequency should be increased. Of course, there are times when an emergency response cleaning service may be required and our cleaning team is available on 24hours notice to respond to incidents which are generally attributable to the cooling system (refrigeration and water leaks) or fire suppression system activation (smoke and fire damage).
It is also important to consider the type of cleaning tools used for any give environment. At Server Room Environments, our cleaning specialists use the very best and latest cleaning systems, tools and techniques. This includes takcloths (made from highly interwoven anti-static material) with anti-static solutions and HEPA-filtered vacuum cleaners.
Other aspects to consider when it comes to datacentre and server rooms include the types of cleaning services required. These can include:
Deep clean: to level 6 of the

ISO

14644-1 Machine Room standard for air cleanliness. As the name implies a 'deep clean' covers every possible area (seen and unseen within the datacentre or serve room space). Maintenance clean: this is an above the floor space cleaning service up to and including any ceiling void. Construction clean: following construction of a new datacentre or local infrastructure works. This is similar to the deep clean service but encompasses more of a builder's clean to cater for a greater volume of material removal. Surface clean: which can be performed as part of a daily or weekly cleaning service.
It is important when performing a cleaning service within a live datacentre or server room environment to carry out a full risk assessment and method statement (RAMS) as there are live systems within the space. This not only refers to the servers and IT networking hardware but the cooling and fire suppression systems. The latter could activate at any time and pose a risk to those within the space carrying out the cleaning service. Site specific health & safety briefings are an inherent part of the working day for any cleaning service and professional team as are the cleaning methodologies to be used.
Consider a computer room floor. Just how do you clean this and ensure it is dust and particulate free? Firstly, the floor can have a covering that is either vinyl or carpet tile. Each will require their own individual cleaning regime. Vinyl floor tiles may be vacuum cleaned and then wiped down with an anti-static cleaner. Ingrained dirt can be removed using a buffer but with a built-in vacuum function. Carpet tiles can vary in their thickness and material make-up and will can require a more intensive vacuum.
The floor space may also include grills that are used as part of the air cooling system and these can have a build-up of dust and particulates and require a wipe down. Within the floor area, some tiles may never be moved and some may be used as 'regular' access points. These latter tiles may see a build-up of dirt around the seal edges which requires removing as will any underfloor deposits.
One of the hardest items to clean are server or rack cabinets. These will require an external clean including front and rear doors and top-of-cabinet with a vacuum and wipe down with cleaning solutions. However, it is not just a case of simply turning up to clean the server cabinet which could be live. The first task is therefore to discuss the cleaning process with the local IT engineer to understand the potentials issues. The server cabinet should be isolated and powered down to prevent any disruption to the power cords or network cables and therefore network processing function. Within the server cabinet, certain components may be more sensitive to movement and vibration than others. Each device will have air intakes and outlets that will require a vacuum clean.
A well planned and scheduled computer room, datacentre and server cabinet cleaning service will bring a number of benefit to the site. These can include increased product reliability and energy efficiency. Dust build up can reduce system reliability and lead to hot-spots within devices which in turn can result in component failure, increased energy usage and potentially a catastrophic failure. As side from these issues, the monetary investment in any piece of IT kit is generally extensive and whether the IT suite is visible to outside visitors or used as a selling point or not for service resilience regular cleaning is a must.